Electronic Warfare Systems include active and passive types.
Press Release Summary: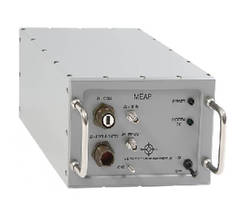 Based on RF Photonics core, MEAP ECM is designed for aerial and naval platforms. Small-size ruggedized Jammer has Wide Instantaneous Bandwidth and minimized SwaP. Applications include self-protection jamming, escort jamming, multi-target environment simulation, and ECCM capabilities demonstrations. Passive ESM System, utilizing Spectrum Compression technology, offers reduced size while maintaining performance.
---
Original Press Release:

Aero India 2015: MORE Achieves Technological Breakthrough in Passive and Active Electronic Warfare (EW)



MORE's MEAP ECM solution is based on a unique RF Photonics Core; the Company's ESM solution efficiently uses Spectrum Compression technology



Both systems are the most compact on the market



Aero India 2015, February 18-22, Bangalore, Booth # A2.1.5



MORE Military Optical RF Equipment – a leader in the development of EW solutions – will launch two new EW solutions at Aero India 2015. The company's unique utilization of the latest technologies enables MORE to offer the world's smallest systems in their fields for air and sea, with uncompromised, top-notch performance.



The company's MEAP ECM solution is a small-size Jammer developed to engage both legacy and modern radars. Based on a unique RF Photonics core, it is designed for aerial and naval platforms. Providing a variety of jamming techniques, the ruggedized system has a Wide Instantaneous Bandwidth and a dramatically reduced SwaP (Size, Weight and Power consumption). Applications include Self-Protection Jamming,  Escort Jamming, sophisticated multi-target environment simulation, and ECCM capabilities demonstrations. The MEAP provides many advantages over DRFM-based systems, such as eliminating the need to use Up/Down converters and Analog-to-Digital converters – and generating the pure replica of the radar signal.



MORE's passive ESM system is the first in the world to efficiently utilize Spectrum Compression technology – enabling the company to significantly reduce system size relative to other available systems, while maintaining its exceptionally high performance level.



According to Roman Rabinovich, Managing Director and CTO, "We are pleased to introduce our EW solutions for the first time at Aero India 2015. During the R&D process, we were able to reach a number of technological breakthroughs that allowed us to reduce the size of the systems up to 10 times compared with competing systems, without compromising performance. Our systems are in the process of being evaluated by a leading navy, and we expect the first orders to be received soon."



About MORE Military Optical RF Equipment

MORE is a privately owned company focused on the defense market. The company's four main areas of activity are ECM solutions, Ultra Wide BW spectrum sensing, Radar and ECM simulators, and RF and Data over Fiber connectivity. MORE's core technology is based on RF-Photonic capabilities, focused on totally analog RF-Photonic design – which enables the creation of robust, low cost/weight/volume EW solutions. The company's solutions – which meet multiple standards including AS-9100C Certificate # 24894, ISO-9000-2000, IPC-620, IPC-610, and ROHS – can stand alone, or be integrated with legacy ESM/ECM systems.



Contact Details:

Meir Gilady,

V.P. BD

meir@eimmore.co.il

Tel:  +972-3-9208200

Fax:  +972-3-9215010

      





More from Packaging Products & Equipment