Universal Process / Temperature Controllers
Electronic Temperature Controls are microprocessor-based.
Press Release Summary: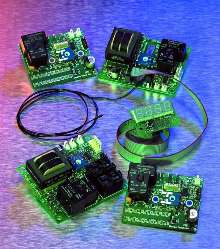 Models 2696/7/8/9 feature single or dual channel temperature sensing, differential of 2°F, thermistor temperature sensing accuracy of ±2°F, and setpoint adjustment of 1°F resolution, which can be set by potentiometer or optional digital user panel. Depending on model, controls come with bi-color LED indicators and 1-3 output drives up to 30 A. Users can select from temperature control range of -40 to 50°F for cold controls or 90 to 250°F for hot controls.
---
Original Press Release:

Selco/ECC's New Family of Electronic Temperature Controllers Offer High Accuracy, Repeatability and Stability at Cost-Effective Pricing


ANAHEIM, Calif. - Jan. 7, 2005 - In response to the demand for a low-cost electronic temperature control, Selco/ECC has introduced a new family of electronic temperature controllers. For applications where high precision temperature control is required and where time and/or temperature reading must be displayed, electronic controls offer an advanced solution over traditional bulb and capillary temperature thermostats. Until now, electronic controls have cost more than their electromechanical counterparts. With Selco/ECC's new family, however, this cost-difference is minimized for many OEM applications.

The new family includes four different electronic control models - the 2696 and 2697 Hot and Cold Temperature Controllers and the higher-end 2698 and 2699 Temperature Controllers. These controllers are designed for a wide variety of refrigeration and heater control applications including commercial and consumer appliances, cooking equipment, grocery store refrigeration storage, chillers, and HVAC.

All electronic controllers in the new family incorporate microprocessor-based technology, assuring users of excellent performance accuracy, repeatability and stability. Control function performance characteristics include a differential of 2°F, single or dual channel temperature sensing, high accuracy thermistor temperature sensing of ±2°F, and a setpoint adjustment of 1°F resolution, which can be set by either a potentiometer or optional digital user panel.

Other features include a wide operating temperature control range, time control, user selection of temperature in °F or °C, small package size for easy OEM incorporation, and conformal coating for moist environments. Depending on model, controllers come equipped with bi-color LED indicators, one to three output drives (up to 30A). Optional features on some models include defrost cycle and remote display or remote control panel. All models are UL pending.

For complete flexibility, power requirements are nominal 115VAC/60Hz with options for Selco/ECC's wide input range SST power input from 75 to 305 VAC. Output choices include single SPST/SPDT relay rating at 15 or 30 Amp 240 VAC or multiple relays on Model 2699. Users can select from a wide temperature control range for cold controls from -40°F to 50°F (-40C to 9.5°C) and hot temperature control ranges from 90°F to 250°F (32.2°C to121.1°C).

"The development of this series of Electronic Controls is giving Selco/ECC an opportunity to enter markets that have been traditionally users of Electro Mechanical thermostats," said Peter Ranalli, Vice President of Sales and Marketing. "We are now able to provide an alternative that offers a much higher level of performance and repeatability at a very competitive price."

For detailed product specifications, visit www.selcoproducts.com

For further information on the entire line of Selco thermostats, thermistors, electronic controls, knobs, and digital panel meters, contact Selco/ECC, 605 South East Street, Anaheim, Calif., 92805-4842; Toll-Free: (800) 229-2332; E-mail: sales@selcoproducts.com; Web site: www.selcoproducts.com.

More from Agricultural & Farming Products