Electronic Enclosures handle up to 14 slot backplanes.
Press Release Summary: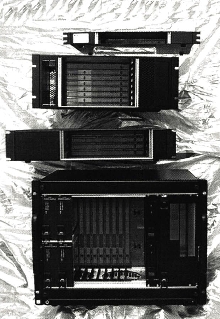 Line of 6U CompactPCI enclosures are available for networking and datacom applications. 1U, 2U and 4U enclosures have horizontally mounted backplanes with 2, 4 or 8 slots, respectively. 8U enclosure supports one master controller and up to 12 peripheral boards or slave controllers. All enclosures meet emissions and safety regulations. 1U and 2U enclosures use side-to-side ventilation while 4U and 8U enclosures have front-to-rear airflow.
---
Original Press Release:
One Stop Systems Introduces Family Of 6U Compact PCI Enclosures for Network, Datacom/telecom Applications

* IU high with 2-slot backplane
* 2U high with 4-slot backplane
* 4U high with 8-slot backplane
* 8U high with 14-slot backplane

November 2001, Escondido, CA- - One Stop Systems introduces its full line of 6U CompactPCI enclosures specifically designed to meet the needs of networking and datacom customers. Each enclosure is designed to offer the greatest amount of functionality in the least amount of rack space. The 1U, 2U and 4U enclosures provide horizontally mounted backplanes that allow the most boards possible per enclosure. The 8U enclosure supports one master controller and up to twelve peripheral boards, or slave controllers. All enclosures are designed to meet necessary emissions and safety regulations.

"We designed this family of enclosures with our networking and internet equipment provider customers in mind," said Steve Cooper, president and CEO. "Many of these companies are providing their own proprietary boards and software solutions and are looking for suitable platforms to build product offerings. One Stop Systems' family of 6U enclosures provides a host of platforms from which to build such a product offering."

Superior cooling High enclosure temperature is one of the main causes of system failure and One Stop Systems has designed superior cooling into each enclosure. The IU and 2U enclosures use side-to-side ventilation with three fans supplying a constant airflow across the boards. The 4U and 8U enclosures both offer front-to-rear airflow. The 8U carrier-class enclosure has hot swap fans mounted below the card cage drawing ambient air in while hot swap blowers mounted above the card cage pull the air across the boards and exhaust it out the rear of the enclosure, providing the greatest amount of cooling possible.

Backplanes
One Stop Systems manufactures the highest quality hot- swap compatible backplanes, designed to the latest CompactPCI specifications. The two-slot backplane in the 1U enclosure and the four-slot backplane in the 2U enclosure are jumper-configurable for 33Mhz or 66Mhz operation. The eight-slot and fourteen slot backplanes can be ordered with the H. 110 telephony bus and a 16-slot packet switching backplane can be provided with the 8U enclosure.

Power Supplies
One Stop Systems robust power supplies support the quad outputs required by CompactPCI. The 1U and 2U enclosures are powered by a 130 watt power supply with outputs of 5V @ 14A, 3.3V @ 16A, +12V @ 1.5A, and - 12V @ 1.5A. The 4U enclosure is equipped with dual hot swap 300 watt power supplies with outputs of 5V @ 25A, 3.3V @ 18A, + 12V @ 16A, and - 12V @ .5A. The 8U enclosure can be configured with up to four hot swappable 3U modular 175 watt or 200 watt power supplies depending on specific system requirements.

Optional system monitoring
For complete system security, the 6U system monitor board can be easily installed in any of these enclosures. It provides monitoring of temperature, fan rotation, DC voltage levels, door opened or closed and CPU activity. It also controls the blower speed, which reduces noise when the blowers are not needed. The transition module, which mounts behind the backplane in the enclosure, provides the interface to all the 11O including connections to fans, blowers, temperature sensors, relays, serial port and Ethemet port. Monitoring is accessed through a Java-based application that allows the viewing and manipulation of individual gages. Parameters such as fan speeds and temperature can be set, alarms can be enabled and disabled, and a global alarm set all from a single remote computer. A smaller embedded version can be implemented in the I U and 2U enclosures.

lU Enclosure
The 1U high enclosure makes an ideal entry-level product, supporting a single-slot master CPU board and one single- slot proprietary board or slave CPU board. The 1 U enclosure without rear transition module area lists for $650 and for $695 supporting rear 1/0. Both versions are immediately available.

2U Enclosure
The 2U enclosure supports up to three peripheral boards and one master processor, providing a platform for even greater functionality. It lists for $895 and is immediately available.

4U Enclosure
The 4U enclosure supports up to seven peripheral boards and one master processor and offers a scalable platform that can be used for any number of board configurations. It lists for $1,295 and is immediately available.

8U Enclosure
The 8U enclosure is a robust, carrier-class enclosure with every major component designed for hot swappability. Supporting four load-sharing power supplies, it provides n+1 redundancy at up to 600 watts. It also provides four hot swappable SCSI drive shuttles supporting up to 300GB of storage. With a 14-slot H. 110 backplane and four 175-watt power supplies, it lists for $4,895 and is immediately available.

One Stop Systems offers volume and distributor pricing on all its products. Most products are stocked on- the-shelf and can be delivered with your PO. Customization of these products and drop-shipping is offered at nominal costs. Contact One Stop Systems' sales department for quoting of specific configurations and customization.

About One Stop Systems One Stop Systems, Inc. (OSS) is a leading provider of CompactPCI components and systems to OEMs working in telecommunications, industrial control, and military applications. OSS offers the broadest selection of CompactPCI products available through its on-line product catalog at www.onestopsystems.com and the largest immediate supply of backplanes, enclosures, and CPU boards available. OSS offers a responsive sales team of technically trained professionals, custom design capabilities, high quality manufacturing, experienced system assembly and test, rapid delivery and excellent post-sales support.