Electronic Enclosure has vertical, DIN rail mount design.
Press Release Summary: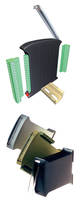 Designed for mounting on DIN EN50022 Rail and compatible with HRFE/HMSA plug and socket connectors, Railbox features vertically sitting PCB to conserve space and optimize I/O connection density (17 poles per side on 5.00/5.08 mm pitch). Standard sizes include 17.5, 22.5, 35, and 45 mm, and enclosure is molded from UL94-V0 flame retardant material. Inserted between 2 halves of enclosure, expansion collar option allows additional space for cooling/mounting additional PCB.
---
Original Press Release:

Vertical DIN Rail Mounting Enclosures for Electronic Applications



The 'Railbox' is a DIN rail mounting case offering design engineers a stylish and innovative enclosure solution. This electronic enclosure is ideal for applications where space on the DIN Rail is at a premium and is well suited to the industrial control, data logging and signal conditioning markets.



The enclosure, manufactured in Italy by Hitaltech's partner Italtronic, is designed for mounting on a DIN EN50022 Rail, with the PCB sitting vertically and therefore saving space on the DIN Rail.



This unique design enables a large number of input/output connections to be achieved in a relatively small amount of space (17 poles per side on 5.00/5.08mm pitch).



Hitaltech's HRFE/HMSA range of plug & socket connectors are compatible with the Railbox enclosure.



The enclosure is available in Black, Grey or Green as standard and is molded from a material that conforms to the flame retardant requirement of UL94-V0.



There are four standard sizes; 17.5mm, 22.5mm, 35mm and 45mm with the added option of an expansion collar which can be inserted between the two halves of the enclosure. The expansion collar can be used to give additional space for cooling and/or for mounting an additional PCB where required.



Samples & proto-type quantities are available to purchase from Allied Electronics



Visit the Hitaltech USA website for further product information.



Compact Version



The Railbox Compact is a lower profile version of the Standard DIN Rail mounting Railbox product. With a height of 79mm this compact version has a reduced height compared to the standard enclosure (120mm).



Like the standard Railbox, the PCB can be mounted in the base without the need for screws as well as allowing for Hialtech's plug-in connectors to be used on each side of the plastic enclosures (10 poles per side on 5.00/5.08mm pitch).



Samples and proto-type quantities available to purchase from Allied Electronics.



Customization Options

Hitaltech aim to offer an enclosure which meet customer specific requirements. In order to meet this requirement, cost effective machining and/or printing of Italtronic's range of electronic enclosures is available. This process therefore removes the need for customers to outsource their customization requirements, thereby saving time.



The customized enclosure + accessories can be supplied under one final part number simplifying the logistics process.



Further information on the customization options is available here: www.hitaltechusa.com

More from Optics & Photonics