Electromagnetic Coils provide precise control.
Press Release Summary: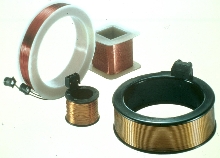 Alcoils freestanding/bobbin coils are precision/random-wound with bondable magnet wire to achieve required electrical characteristics in optimal space. Available in standard or custom sizes in various plastic materials, coils can be finished with pin or insulation displacement terminals. They can also be encapsulated with thermoplastics for moisture-, corrosion-, chemical-, and vibration-resistance. Alcoils meet waterproof industrial standards to IP69.
---
Original Press Release:
Alcoils Electromagnetic Coils Custom Designed For Precise Control, Long Lasting Performance

Ideal for automotive, industrial, outdoor power equipment and off-highway applications

SOUTH BELOIT, Ill., April 26, 2002 - Warner Electric offers Alcoils electromagnetic freestanding and bobbin coils to reduce cost and space for automotive, industrial, outdoor power equipment and off-highway applications.

From small solenoids to heavy duty motion control, Alcoils provides the best possible coil solutions for a variety of applications such as steering systems, compressor clutches, electromagnetic clutches and brakes, audio components, emission controls and hydraulic valves.

Alcoils freestanding coils are custom engineered and precision-wound with high quality, bondable magnet wire to achieve the required electrical characteristics in the least amount of space.

For maximum versatility, bobbin wound coils are available in standard or custom sizes, in a range of engineered plastic materials. Bobbin wound coils can be random or precision wound. All coil designs can be finished with pin or insulation displacement terminals or other related electrical components.

"Warner Electric engineers the precision layered or random wound Alcoils packages to suit the exact demands of any design and operating requirements," said Stan Owens, product manager for Warner Electric.

For Added Protection

Any Alcoils freestanding and bobbin wound coils can be encapsulated with tough thermoplastics to protect the coil assembly from moisture, corrosive chemicals, vibration and other hard working conditions. This superior protection also offers improved insulation properties and dielectric strength plus maximum structural integrity and impact resistance in all environments. Alcoils can meet the toughest waterproof industrial standards, including IP69.

In addition, encapsulating the coil in a unitized package complete with structural components will reduce assembly operations, while providing added protection.

For more information about Warner Electric Alcoils products, visit the website at www.WarnerElectric.com, call (800) 234-3369 or fax (815) 389-6212. Write to Warner Electric, 449 Gardner St., South Beloit, IL 61080.

Warner Electric is a global supplier of industrial clutches, brakes, clutch/brake controls, tensioning systems, and sensors and switches. Warner Electric is a member of the Colfax Power Transmission Group, a world class marketing and manufacturing leader with hundreds of years of combined industrial manufacturing expertise. To find out more about Warner Electric's breakthroughs in clutch/brake technology, visit www.WarnerElectric.com or www.ColfaxPT.com.
More from Paints & Coatings