Electrodes weld ferritic stainless steels with 18% chromium.
Press Release Summary: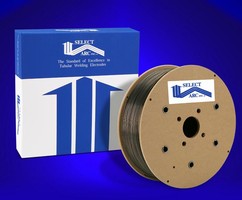 Select 439C-Ti and Select 18CrCb-C are used to fabricate exhaust systems and weld exhaust system components such as mufflers and manifolds. Select 439C-Ti welds with minimum of spatter with no burn through on thin material, and provides stable arc transfer at low current settings. Select 18CrCb-C exhibits corrosion and oxidation resistance at high temperatures and is stabilized with columbium to prevent carbide precipitation and sensitization cracking in microstructure.
---
Original Press Release:

New Ferritic Stainless Steel Electrodes Offered by Select-Arc



Fort Loramie, OH - Select-Arc, Inc. has introduced two stainless steel, composite metal cored electrodes designed to weld ferritic stainless steels containing 18% chromium. Select 439C-Ti and Select 18CrCb-C represent excellent electrode options to fabricate exhaust systems.

Select 439C-Ti welds with a minimum of spatter with literally no burn through on thin material. It provides a stable arc transfer, even at relatively low current settings. Titanium stabilization imparts outstanding resistance to sensitization, which reduces the chances of stress corrosion cracking when welding over lubricants, oils and other hydrocarbons. Select 439C-Ti offers tremendous productivity-enhancing advantages over solid wires when welding on areas of poor fit up, on thin materials and on welds where gaps must be bridged.

Select 18CrCb-C exhibits improved corrosion and oxidation resistance at higher temperatures and is stabilized with columbium (niobium) to prevent carbide precipitation and subsequent sensitization cracking in the microstructure. It features benefits similar to Select 439C-Ti when compared with solid wire.

Both Select 439C-Ti and Select 18CrCb-C are superb choices to weld exhaust system components such as mufflers, manifolds, catalytic converters and exhaust tubing. Select 18CrCb-C can also be utilized to weld thin stock and sheet steel of the same composition.

For more information on Select 439C-Ti and Select 18CrCb-C welding wires, call Select-Arc at 1-800-341-5215 or visit www.select-arc.com.

From: Select-Arc, Inc.
P. O. Box 259
Fort Loramie, OH 45845-0259
Phone: (800) 341-5215
Fax: (888) 511-5217
www.select-arc.com
Contact: Mike Tecklenburg