Electrically Conductive Inks suit wearable electronics.
Press Release Summary: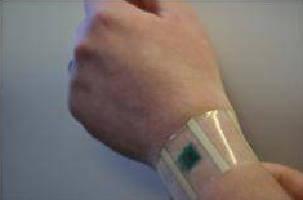 Adhering to variety of natural and synthetic fibers, 125-19FS consists of flexible, screen-printable, silicone-based conductive ink that offers low-temperature performance to -70°C, and high temperature properties up to 325°C. Screen-printable 120-07 Ink is extremely conductive with optimal creasing resistance and washability features. Adhering to fabric substrates, 124-33 screen-printable conductive adhesive offers flexibility and resistance to creasing.
---
Original Press Release:

Creative Materials Introduces Electrically Conductive Inks and Adhesives for Wearable Electronics



Ayer, MA – Creative Materials introduces electrically conductive inks and adhesives custom-designed for wearable electronic applications.  Designed for human connectivity, fashion or function, wearable electronics can be used to create useful interactive systems. Wearable electronics applications are growing rapidly and finding their way into many contexts including, for example: medical devices such as fetal heart rate monitoring, sleep analysis and critical patient care; health and fitness activity tracking; GPS tracking of emergency response and security/intelligence personnel. The devices are placed either on the skin or on clothing and communicate wirelessly through smart phone integration. This technology has only just begun to realize its full potential and is limited only by the developer's imagination.



Creative Materials has developed conductive inks that adhere to a wide variety of natural and synthetic fabrics. 125-19FS is a flexible screen-printable silicone-based conductive ink offers low-temperature performance to minus 70 degrees C, and high temperature properties up to plus 325 degrees C.  It's stretch-ability far out performs standard functional inks, while maintaining acceptable conductivity.  120-07 is a screen-printable extremely conductive ink with excellent creasing resistance and wash-ability features. 124-33 is a screen-printable conductive adhesive with excellent adhesion to fabric substrates, combined with excellent flexibility and resistance to creasing. Conductive adhesives are used to bond active components to a circuit. Additional products, including adhesives in film form, are custom-designed to meet the end user's performance and process requirements.



Creative Materials, Inc., headquartered in Ayer, Massachusetts, has been a leading manufacturer of custom-formulated electrically conductive inks, coatings, and adhesives for 28 years. Creative Materials is ISO 9001 certified, with an extensive product line. Our company has wide-ranging experience in the adhesive, ink and coating industry, combining technical expertise with nimble production capabilities, enabling us to reduce time-to-market for new product applications.







More from Materials