Electrically Conductive Epoxy offers low-temperature cure.
Press Release Summary: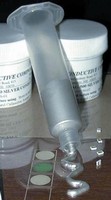 Silver-filled, 2-part epoxy adhesive (EP-600) is designed to attach electrical components to metal/plastic substrates. It accelerates manufacture of PTF circuits built on temperature-sensitive substrates and cures at temperatures from 20 to 140°C with times from 48 hr to 2-6 min; snap cure times are possible at higher temperatures. Elasticity allows for differences in thermal expansion properties of bonded components and for flexing/bending substrates without fracturing SMT joints.
---
Original Press Release:

Conductive Compounds Announces Two-Part Electrically Conductive Epoxy



Low-temperature curing is ideal for specialized electronics applications...

HUDSON, N.H. - Oct. 8, 2008 - Conductive Compounds Inc. (CCI) today announced its EP-600 silver-filled electrically conductive two-part epoxy adhesive for component mounting using dot dispense or screen printing processes. CCI is a worldwide provider of conductive and resistive inks, coatings and adhesives.

The EP-600 conductive epoxy adhesive is designed to attach components, such as resistors, LEDs (see end for all acronym definitions) and grounding wires to metal and plastic substrates where solder or other conductive epoxies requiring high temperature curing cannot be used. It enables fast throughput manufacturing of PTF circuits built on temperature sensitive substrates, such as PET and for snap curing at low temperatures.

Low cure temperatures - Strong bonds

The silver-filled conductive epoxy can be cured at temperatures ranging from 20ºC to 140°C with cure times ranging from 48 hours to 2-6 minutes, depending on the temperature. Snap cure times are possible at higher temperatures. EP-600 conductive epoxy will cure at room temperature, but heat curing at higher temperatures is recommended since it produces increased bond strength and electrical conductivity. EP-600, unlike single-part epoxies, will continue to cure at room temperature after removal from an oven, if curing is not completed.

Once cured, sheer and lateral strength tests show that EP-600 epoxy joints on print-treated PET substrates demonstrate 30 to 40 percent greater bond strength than other conductive epoxies. EP-600 epoxy's elasticity also allows for differences in thermal expansion properties of the bonded components and for flexing and bending substrates without fracturing surface mount joints.

Flexible dispensing options

Available in convenient pre-weighed pouches (CC Paks), EP-600 can be used in high speed automated dot dispense and screen printing production machines, as well as handheld dispensing equipment. CC Paks are the most convenient, easy to mix and popular EP-600 packaging option. Bulk packaging containers are also available.

Once mixed, the rhelogical properties of EP-600 allow for small, accurate and repeatable dot geometries over a four-hour period. Its non-stringing characteristics exhibit quick break-off after dispensing to avoid shorts. Tests have shown that EP-600 can reduce dispensing times by up to 70 percent on high speed automated dispensing equipment.

"EP-600 was developed using our materials expertise and broad knowledge of the manufacturing processes and unique requirements of the PTF industry," explained Don Banfield, Conductive Compounds co-founder and product manager. "We understand electronic manufacturing processes and have designed our conductive inks and epoxies for both high- and low-volume applications, and continue to commercialize new products in response to continuous technology advances in the electronics industry. We are able to respond quickly to provide customized formulations for unique requirements, and back this with unsurpassed customer service and technical support."

All Conductive Compounds R&D and manufacturing takes place at its Hudson, N.H. facility. Products are generally shipped within 48 hours after an order is received. For product information on Conductive Compounds' full line of inks and adhesives visit: www.conductivecompounds.com.

About Conductive Compounds

Conductive Compounds Inc., founded in 1994, is a worldwide provider of materials for the electronics industry. It specializes in electrically conductive and resistive inks and coatings, electrically conductive and thermally conductive adhesives, potting compounds, ultraviolet-cured dielectrics, encapsulants and conformal coatings, radio opaque inks, silver and silver chloride inks, PTC carbon heater inks, and pressure sensitive variable resistance transducer inks. Its materials are used to manufacture membrane switches, EL panels, touch screens, medical sensors, cell phone and RFID antennas, rigid and flex circuits, printed heaters, solar panels, and for EMI/RFI shielding and thermal management of electromechanical assemblies. The company specializes in custom developing products for unique applications and backing its products with unsurpassed technical support and customer service. For further information call 603-595-6221, email sales@conductivecompounds.com or visit www.conductivecompounds.com.

LED-Light Emitting Diode
PTF-Polymer Thick Film
PET-Polyester
PTC-Positive Temperature Coefficient
EL-Electroluminescent
RFID-Radio Frequency Identification
EMI-Electromagnetic Interference
RFI-Radio Frequency Interface

All trademarks are the property of their respective owners.

More from Fluid & Gas Flow Equipment