Electrical Box Supports work with stud depths up to 4 in.
Press Release Summary: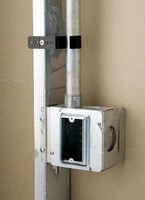 H23 Box Mounting Brackets attach 4 and 4 11/16 in. outlet boxes to wood or metal studs, accommodate 2½ and 3½ in. stud depths, and comply with NEC® Article 300.4(d) and CEC® Rule 12-3012. Extending stud depths to 4 in., CADDY MEB1 brackets mount on either side of stud without need to reposition box, and include V-notch on center for consistent positioning. Both electrical box supports reduce drywall bulge when used with SMS8 low-profile self-tapping screws.
---
Original Press Release:

Caddy Electrical Box Supports Work with Stud Depths up to 4"



SOLON, Ohio, USA, October 2006 - When used in conjunction with CADDY® Screw-On Conduits Supports, CADDY Electrical Box Supports from ERICO® provide for easy, code-compliant installation. The H23 Box Mounting Bracket for electrical boxes easily attaches 4" and 4-11/16" outlet boxes to wood or metal studs. The bracket complies with NEC® Article 300.4(d) and CEC® Rule 12-3012.

The H23 bracket works with 2-½" and 3-½" stud depths. A support leg on the bracket reduces movement of the box in the wall. The offset design of the support leg and use of optional #SMS8 low-profile self-tapping screws reduce drywall bulge.

The CADDY MEB1 extends stud depths to 4". The bracket has built-in support legs to reduce box movement when used with EMT. It is ideal for flexible conduit, EMT, MC/AC or Romex® non-metallic sheathed cable.

The versatile MEB1 mounts on either side of the stud without the need to reposition the box. It also eliminates the need for an electrical box in low-voltage applications when plaster rings are mounted separately. The bracket works on two box depths (1-½" and 2-1/8" deep), two box sizes (4" and 4-11/16") and three stud depths (2-½", 3-½" and 4"). A V-notch on the center allows for consistent positioning.

Like the H23, the MEB1 also reduces drywall bulge when used in conjunction with #SMS8 low-profile self-tapping screws.

For more information, please call 1-800-25-CADDY or visit www.erico.com.

ERICO® is a leading designer, manufacturer and marketer of precision-engineered specialty metal products serving global niche product markets in a diverse range of electrical, construction, utility and rail applications. The company is headquartered in Solon, Ohio, USA with a network of sales locations serving more than 25 countries and with manufacturing and distribution facilities worldwide. ERICO's well-known brand names include: CADDY® fixings, fasteners and supports; CADWELD® welded electrical connections; CRITEC® surge protection devices; ERICO® rail bonds and specialty products; ERIFLEX® low-voltage panel components; ERITECH® electrical products; and LENTON® concrete reinforcement. Visit ERICO online at www.erico.com.

Romex is a registered trademark of General Cable Corp. NEC is a registered trademark of, and the National Electric Code (NEC) standard is a copyright of the National Fire Protection Association. CEC (Canadian Electric Code) is a copyright of the Canadian Standards Association International.