Electric Vehicle Restraint provides safety in loading dock operations.
Press Release Summary: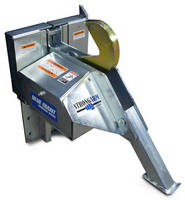 With 32,000 lb restraining force, StrongArm(TM) HVR303 secures trailers to loading dock via electromechanical rotating hook to prevent dangers associated with unscheduled truck departure. Features include intelligent touch controls, hook-style arm that can service variety of trailers, and spring-based compensation float that ensures compatibility with air-ride suspension systems. Also, constant-force restraining grip prevents accidental separation due to cross-docking bounce/vibration.
---
Original Press Release:

Blue Giant Launches Electric Version of Award-Winning Vehicle Restraint



Brampton, ON, Canada - Blue Giant Equipment Corporation has added a new model to its awardwinning StrongArm(TM) vehicle restraint series.

"The StrongArm(TM) HVR303 electric vehicle restraint secures trailers to the loading dock via an electromechanical rotating hook," says Jeff Miller, Blue Giant's Vice-President of Sales and Marketing. "It combines advanced engineering, superior hold, and intelligent touch controls to make loading dock operations safer than ever before."

With a restraining force of 32,000 lbs (14,500 kgs), the HVR303 prevents forklift damage, worker injury, and other dangers associated with unscheduled truck departure. The rugged hook-style restraint arm services a wide variety of trailers, including those with bent or damaged ICC bars. A spring-based compensation float ensures compatibility with air-ride suspension systems and a constant-force restraining grip prevents accidental separation due to cross-docking bounce and vibration. The sliding nose extension enables the restraint carriage to automatically position itself in accordance with each incoming truck's design, without damaging either the restraint or the ICC bar.

"The low-profile design allows the HVR303 to comply with standards set in accordance with the NHTSA (National Highway Traffic Safety Administration) guidelines," confirms Gerard Biasutto, Director of Technical Development.

Designed to comply with ANSI MH30.3, the StrongArm(TM) HVR303 is an environmentally sustainable alternative to oil-powered hydraulics. It can be interlocked with Blue Giant air-powered dock levelers to build a 'green' loading dock solution, allowing builders and developers to qualify for government incentives as well as project the image of an environmentally responsible business.

The HVR303 is controlled by the Blue Genius(TM) Gold Series II Touch Control Panel, which includes an LCD menu screen and a flat-surface buttons and keypad with unique touch sensors. Interior and exterior LED lights keep drivers and warehouse personnel advised of safety conditions.

"This simply designed, versatile restraint gives our customers greater flexibility in matching a restraint to their particular requirements," says Mike Poeltl, Marketing Manager at Blue Giant. "They can enjoy the strength and dependability of a StrongArm(TM) vehicle restraint without limiting themselves to one model alone."

About Blue Giant Equipment Corporation
Blue Giant is the premier solutions provider of safe, effective, and technologically innovative loading dock and material handling equipment.

With a product line that includes dock levelers, vehicle restraints, intelligent dock controls, dock and door guards, door seals and shelters, and a diverse range of material handling equipment, Blue Giant offers turnkey solutions for the most demanding freight handling needs.


More from Sensors, Monitors & Transducers