Electret Condenser Microphones feature solderless terminations.
Press Release Summary: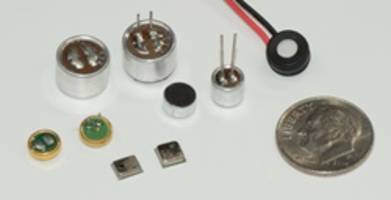 Electret Condenser Microphones are offered in range from 34 to 57 dB. Operating at 2.0V to 4.5V and 150µA to 500 µA current, units are available in Omnidirectional (4.5 dia. x 3.0 ht. to 9.7 dia. x 6.5 ht.), Unidirectional (6.0 dia. x 2.7 ht. to 9.7 dia. x 6.5 ht.), Noise Cancelling (6.0 dia. X 2.7 ht. to 6.0 dia. X 1.8 ht.) and MEMS models. Microphones are used in applications from recording and lavalier to telephones and sound recording devices.
---
Original Press Release:
Transducers USA Introduces New Electret Condenser Microphones
Transducers USA, an industry leading supplier of audible signal devices, has announced the introduction of its new expanded line of electrostatic and MEMS microphones.
The electrostatic microphone is a ferroelectric material that maintains a permanent electrical charge and is polarized. The MEMS (Micro-Electrical Mechanical System) Microphone is a microphone chip where the diaphragm is etched onto a silicon wafer to allow for extremely small microphones to fit tiny applications.
Nearly all cell phone, computer, PDA and headset microphones are electret types. They are used in many applications, from high-quality recording and lavalier (lapel mic) use to built-in microphones in small sound recording devices and telephones. Electret microphones now rival traditional condenser microphones in every respect, and can even offer the long-term stability and ultra-flat response needed for a measurement microphone.
The electrostatic and MEMS microphone lines from Transducers USA range from 34 to 57 dB. Models operate at 2.0V to 4.5V and 150µA to 500 µA current. Several types are available in the electrostatic lines:
Omnidirectional – featuring a choice of termination: bullseye (solderless), PC pins and solder terminals; sizes range from 4.5 dia. x 3.0 ht. to 9.7 dia. x 6.5 ht.;
Unidirectional – with solderless termination; sizes range from 6.0 dia. x 2.7 ht. to 9.7 dia. x 6.5 ht.
Noise Cancelling – with solderless termination; sizes range from 6.0 dia. X 2.7 ht. to 6.0 dia. X 1.8 ht.
MEMS – with surface mount termination; sizes typically around 4.5 dia. X 1.45 ht. (All sizes shown are mm)
Additional models available include the KECG2742 model which is IP57 rated. The KECG2742 model is dustproof and watertight for outdoor use, such as public safety microphones or outdoor headsets. The surface-mount is ideal for cameras, headsets, cell phones and other small handheld electronics.
For more information on electret condenser microphones from Transducers USA, please visit: http://www.tusainc.com or contact Joe Sieracki at 847-956-1920.
About Transducers USA
Transducers USA produces quality audible signal devices at very competitive prices for Original Equipment Manufacturers. The company manufactures a comprehensive line of audio indicators and transducers in piezo and electro-mechanical varieties, including microphones, speakers, and ultrasonic components.
Products are manufactured in ISO-9000 and RoHS certified facilities in Asia. Transducers USA provides customer support and engineering assistance from their local headquarters in Elk Grove Village, IL. Over 1,300 production workers and 100 specialized audio engineers support Transducers USA.
In addition to hundreds of standard audible signal devices, custom products are also available at Transducers USA, based on either a customer's design or one created by Transducers USA engineers. CAD drawings and tooling will be provided at no charge for qualified orders.