EC Series Elecylinder feature built-in controller.
Press Release Summary: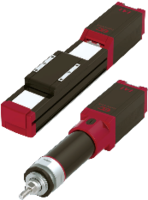 Featuring battery-less absolute encoder and predictive maintenance function, EC Series Elecylinder can be operated using ON/OFF signals. Offering longer service life, unit adjusts acceleration and deceleration quickly. Product's troubleshooting can be done using teaching pendant.
---
Original Press Release:
IAI Launches a New Series of Electric Cylinders to Help Air Cylinder Users Take Advantage of Time and Cost Savings
IAI America introduced the new EC ELECYLINDER Series of simple-to-use, rod and slider type electric actuators to help ease the transition from air to electric cylinders and gain the sought after benefits of higher productivity and profits.
The ELECYLINDER is easy to operate and does not need any complicated programming. Operation is even possible using only ON/OFF signals, just like solenoid valves. Simple data entry of positions, speed, and acceleration settings will have the ELECYLINDER up and running in 5 minutes.
With the built-in controller, acceleration and deceleration are easily adjustable moving forward and backward, which allows for much higher speeds and more cycle time reductions.
The battery-less absolute encoder and predictive maintenance function eliminate time-consuming maintenance work. In the unlikely event of a breakdown, the EC Series is easy to repair. Troubleshooting can be done using the teaching pendant, which will display the likely causes of stoppage and offer repair instructions.
Higher profit comes from the EC's ability to reduce momentary stops on the production line and increase productivity. They also have a longer service life, which is typically 5 times longer than a comparable air cylinder. Additionally, the EC uses only 1/6th the electricity to perform the same task as the air cylinder.
CAD drawings, PDF files and data sheets detailing the measurements and specifications of each ELECYLINDER are available for download at www.intelligentactuator.com/ec1
IAI manufactures a full range of IX Scara Robots, Linear Actuators, ROBO Cylinders, Table Top Robots, Cartesian Robots, Controllers, Single Axis Robots, and Linear Positioners.
Contact:
Antonio Jimenez
Phone: (310) 891-6015
Email: ajimenez@iaius.com
Contact This Company Download Spec Sheet
More from Robotics