Easy Stainless Steel Welding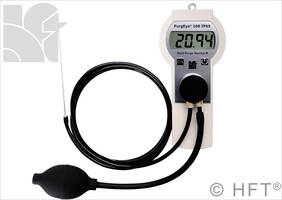 Weld Purge Monitors® are in use throughout the Welding Industry. Used during the welding of reactive alloys, they ensure the oxygen present is at a low enough level to avoid oxidation, which can lead to a loss of the alloys' corrosion resistance properties.
For stainless steel, the oxygen level needs to be as low as 100 ppm. Recognising the requirement for a low cost, portable 100 ppm monitor, Weld Purging Experts Huntingdon Fusion Techniques HFT® designed and developed the PurgEye® 100 Weld Purge Monitor, which is now the World's leading monitor for welding stainless steel.
Georgia Gascoyne, CEO Managing Director for HFT® said: "Our award winning PurgEye® 100 is really a game changer for the welding industry. Stainless steel is often the metal of choice in many different industries for its corrosion resistance properties, strength, weight and cost, so developing a monitor that can read accurately down to 100 ppm was a huge requirement."
The PurgEye® 100 features an auto calibration at the touch of a button, which ensures the monitor is always reading correctly. It is IP65 rated for water and dust and also features a low sensor and low battery indicator. With a large, easy to read digital screen, the operator will immediately know when it is safe to start welding ensuring a perfect welding environment every time.
The PurgEye® 100 IP65 Weld Purge Monitor® indicates oxygen levels from atmospheric (20.94%) down to 100 ppm, which makes it perfect for welding stainless steel. HFT® also have a range of 1 ppm monitors, perfect for welding other alloys including titanium.
Ron Sewell, Chairman for HFT® said: "All of our Weld Purge Monitors® are manufactured in the UK, for guaranteed accuracy of oxygen indication to allow a weld start with minimal risk of oxidation."
Watch the PurgEye® 100 demonstration video: https://www.youtube.com/watch?v=zaUKU46-e6M
For further information, please contact:
Michaela Hess, Marketing and Social Media Manager
Huntingdon Fusion Techniques HFT®
Press: michaelahess@huntingdonfusion.com
Sales: support@huntingdonfusion.com
More from Software