Dynamic Current Loggers provide 8,000 samples/sec.
Press Release Summary: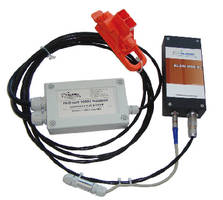 Designed for current and voltage measurements in automotive hybrid or electrical powertrain systems, KLARI-MOD SC 1000V Series offer 16-bit resolution and 1,000 V safety isolation between measurement circuitry and data output. Modules can be adapted to meet changing measurement requirements via use of different shunts or voltage probes. Data output is available via CANbus or RS232 serial interface.
---
Original Press Release:

Saelig Introduces New Dynamic Current Loggers for Automotive Hybrid or Electrical Powertrains



Reliable, Repeatable Measurements at 8000 Sa/s with Zero Drift, Extremely Wide Dynamic Range

Pittsford, NY, USA - Saelig Company, Inc. (Saelig) has announced the availability of KLARI-MOD SC 1000V, new dynamic measurement modules specially designed for current and voltage measurements in automotive hybrid or electrical powertrain systems. A unique feature is the 1000V safety isolation between measurement circuitry and data output. KLARI-MOD SC 1000V enables fast measurements of up to 8,000 samples per second, previously unavailable in a logging module with these specifications.

For safe and proper automotive hybrid vehicle integration, OEM's and suppliers must be able to reliably and repeatably measure energy flow of system and individual currents and voltages over the full measurement range, without temperature drift. KLARI-MOD SC 1000V modules are especially designed to assist in the collection of dynamic voltage and current measurements, offering 16-bit resolution, extremely wide dynamic range, and isolation of 1000V between measurement circuitry and data output, gathering data at up to 8,000 samples per second, the fastest technology available for this market. Modules can be easily adapted to meet changing measurement requirements via the use of different shunts or voltage probes for low, medium and high current applications, with data output available via CANbus or RS232 serial interface. Measurement connection points can be customer-specific, or simply via fuse replacement.

An automotive hybrid measurement system must work transparently without affecting vehicle performance, and independently of sensors installed on the production vehicle. It must also meet emerging automotive legislative and OEM safety requirements, such as SAE J1711 Emission and Fuel Economy Testing, J1772 Conductive Charging, J2464 Battery Pack and Capacitor Pack Safety and J2894 Charging Power Quality. These standards are only just beginning to be defined within the global automotive hybrid market. Overall safety of both sensor and measurement modules is absolutely essential to such hybrid vehicle testing applications, ensuring that both possess sufficiently high insulation for safe measurements on the high-voltage side (per EN 60664).

Manufactured in Europe by Stefan Klaric GmbH & Co. AG and widely used by European automobile manufacturers, KLARI-MOD SC 1000V is now available in North America from Saelig, with units starting at $2000. For detailed specifications, technical assistance, or additional information, contact (toll-free in the US) 1-888-7SAELIG, via email: info@saelig.com, or visit www.saelig.com.

About Saelig Company, Inc.

Founded in 1988 in Rochester, New York, Saelig is a North American distributor with a growing reputation for finding and sourcing unique, easy-to-use control and instrumentation products and related active components, for use in a variety of industries, including: automation, automotive, aerospace & defense, computers, controls, embedded systems, medical & pharmaceutical manufacturing, motion control, R&D, wireless, etc. Products lines are continuously added from sources across the globe, and are offered at highly competitive prices, accompanied by full in-house technical support, exceptional customer service, and fast delivery. For full details of available product lines, please visit www.saelig.com.

Direct Link: www.saelig.com/pr/klarimodsc1000.htm

More from Optics & Photonics