Durable, Low Loss Laser Mirrors feature >99.9% reflectivity.
Press Release Summary: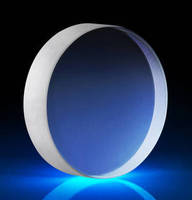 For applications requiring max reflectance at given wavelength range and angle of incidence, Low Loss Laser Mirrors feature damage thresholds of 12 J/cm², 10 nm at 1,064 nm. Ion beam sputtered coatings promote repeatabilty and tight tolerances, while UV Fused Silica substrate and 1/8 λ surface accuracy help maintain optimal image quality. Designed for 0° or 45° angles of incidence, RoHS-compliant optical mirrors are available with diameters of 25.4 mm for 355, 532, and 1,064 nm wavelengths.
---
Original Press Release:

Low Loss Laser Mirrors Feature Greater than 99.9% Reflectivity



Durable mirrors have high damage thresholds to withstand high power lasers



Barrington, N.J. — Edmund Optics® (EO), the premier provider of optical components, introduces its new Low Loss Laser Mirrors. These optical mirrors are used in laser applications that require maximum reflectance at a given wavelength range and angle of incidence. Durable Low Loss Laser Mirrors feature high damage thresholds, 12J/cm2, 10nm at 1064nm, to withstand applications in harsh environments.



Maximum reflectivity for S and P Polarization

Low Loss Laser Mirrors feature greater than 99.9% reflectivity at most Nd: YAG and Ti: Sapphire laser lines. Ion beam sputtered (IBS) coatings provide high repeatabilty and tight tolerances. IBS coatings offer higher density, higher damage thresholds and superior durability than comparable reflectance coating technologies. The RoHS compliant optical mirrors are manufactured with a UV Fused Silica substrate and a 1/8λ surface accuracy to maintain excellent image quality.



Designed for either 0° or 45° angles of incidence

Low Loss Laser Mirrors are designed for 0° or 45° angles of incidence. These robust optical mirrors are resistant to many environmental conditions including heat, humidity and pressure. They are ideal for a wide variety of harsh environmental applications. Low Loss Laser Mirrors are available with a diameter of 25.4 mm for 355 nm, 532 nm and 1064 nm wavelengths. Low Loss Laser Mirrors are in-stock and available for immediate delivery for fast turnaround and excellent value.



About EO:

Edmund Optics® (EO) is a leading producer of optics, imaging, and photonics technology for R&D, electronics, semiconductor, pharmaceutical, biomedical, and military markets around the globe. EO is the world's largest supplier of off-the-shelf optical components. Customers can purchase items by contacting EO at 1-800-363-1992, via the catalog, or via the website at www.edmundoptics.com



Company Contact:

Kirsten Bjork-Jones

Director Global Marketing Communications

Edmund Optics®, Inc.

101 East Gloucester Pike

Barrington, NJ 08007 U.S.A.

Phone: 1-800-363-1992

Fax: 1-856-573-6295

email: kbjork-jones@edmundoptics.com

More from Cleaning Products & Equipment