Dual SSR Relay switches up to 9 A at up to 40 Vdc or 38 Vac.
Press Release Summary: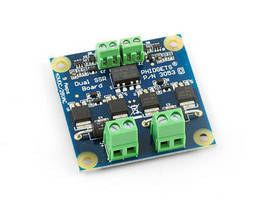 Containing 2 solid state relays, Model 3053 features max DC switching voltage of 40 Vdc, max AC switching voltage of 28 Vac, and max switching speed of 300 Hz at zero load. Opto-isolation between control inputs and outputs of SSR in form of GaAs LED paired with set of optically controlled MOSFETs provides protection from output to input. Relay is suited for controlling large loads and devices such as AC or DC motors, electromagnets, solenoids, and incandescent light bulbs.
---
Original Press Release:

Phidgets Adds the 3053 - Dual SSR Relay to Its Family of Relays



The 3053 can switch up to 9 Amp at up to 40 VDC or 28 VAC.

CALGARY, Alberta, - Phidgets Inc. released today the 3053 - Dual SSR Relay. The 3053 contains 2 SSR relays for switching up to 9 Amp at up to 40VDC or 38VAC.

"The 3053 fits nicely within our family of relays providing a Solid State alternative to the 3051 - Dual Mechanical Relay board for users who need a 2 relay board and do not require the higher voltage supported by the 3051." says Chester Fitchett, CEO of Phidgets.

"We will keep selling the 3052 - Single SSR Relay Board for users who only need a single relay board." added Bernard Rousseau, Director of Marketing

Product Specifications

Output Contact on Resistance: 0.05 ohms

Isolation Voltage (Input to Output), time = 60s minimum: 5300 Vrms

Working Voltage for isolation: 2500 Vrms

Maximum DC Switching Voltage: 40VDC

Maximum AC Switching Voltage: 28VAC

Maximum Switching Current (AC or DC): 9A

Maximum Continuous Current @ 25°C (AC or DC): 9A

Min/Max Input Voltage (Control): 3 to 30V

Maximum Switching Speed at Zero Load: 300Hz

Turn-On Time at Zero load with 50 Ohm input impedance: 900µs

Turn-On Time at Switching 9A with 50 Ohm input impedance: 1.4ms

Turn-Off Time at Zero Load: 160µs

Turn-Off Time at Switching 9A: 160µs

Turn-On Time at Zero load using 8/8/8 on inputs: 1.90ms

Turn-Off Time at Zero load using 8/8/8 on inputs: 130µs

Input Wire Gauge: 16 to 26 AWG

Output Wire Gauge: 12 to 24 AWG

Software Environment

"Unlike a lot of our competitor's products that require their users to write some firmware code in order to use their sensor, we are completely "Plug and Play" says Bernard Rousseau, Director of Marketing. "With Phidgets, you plug it in and start using it and when it comes to programming, the user, not us, decides which operating system and which computer language he wants to use", added Rousseau.

Users can program Phidgets using a simple yet powerful and well documented Application Programming Interfade (API) that is supported under Windows (2000, XP, Vista), Windows CE, Mac OS X, and Linux. Users can write programs in Visual Basic, VB.NET, C#, C/C++, Flash/Flex, Java, Labview, Matlab, ActionScript 3.0, and Cocoa.

Phidgets also provides programming examples for all its products to help programmers write their own programs. The API Libraries as well as the examples and the documentation are available at no charge on Phidgets.com.

Pricing and Availability

The 3053 - Dual SSR Relay Board is available now. The suggested resale price is $30.00 Canadian.

About Phidgets

Phidgets, Inc. is a technology leader in the design and manufacture of low-cost control and sensing modules connected to personal computers through the USB port. Phidgets products are ideally suited for fast prototyping. The privately held company is based in Calgary, Alberta, Canada.

Contact Information

Bernard Rousseau

Director of Marketing

Address: Phidgets Inc.

2715A 16A Street N.W.

Calgary, Alberta, Canada

T2M 3R7

Web Site: Phidgets.com

Phone: 1-403-282-7335

Fax: 1-403-282-7332

E-mail: bernard@phidgets.com

Sales Inquiries: sales@phidgets.com

More from Fluid & Gas Flow Equipment