Dual-Spindle Turning Center features rigid, structurally stable bed. .
Press Release Summary: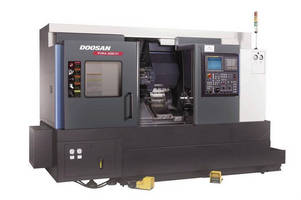 Puma 2600SY has structurally stable bed that absorbs low-frequency/high-amplitude forces of rapid acceleration/deceleration and vibration associated with heavy cuts. System has 24-position turret with 7.5 hp motor that turns live tooling at up to 5,000 rpm. Designed for parts with up to 14.8 in. dia and 29.9 in. long, unit also includes 35 hp spindle motor that generates speeds up to 4,000 rpm, while y-axis movement is achieved by linear interpolation and synchronous movement of X1 and X2 axes.
---
Original Press Release:

Puma 2600SY Turning Center: Greater Rigidity...Greater Power



The S stands for sub-spindle, the Y for Y-axis motion, and Puma for power, precision and performance. Put together they spell Puma 2600SY, a versatile turning center that's able to machine complex geometries in tough materials quickly, and to demanding tolerances.

At the Puma's heart is an enhanced, structurally stable bed capable of absorbing the low frequency/high amplitude forces of rapid acceleration and deceleration, and the vibrations associated with heavy and interrupted cuts. The result is a highly rigid foundation that preserves contour definition, mirror finishes, and workpiece quality. An enlarged bed footprint and up to 50% greater guide-way width assure superior cutting precision.

The attachment areas for the main and sub-spindles have also been enlarged - up to 190% for the main spindle and 94% for the sub-spindle. In addition, the spindle body has been shortened to minimize vibration, and the bearing diameter enlarged to improve rigidity. The built-in-motor and the new spindle designs facilitate higher feeds and speeds, more accurate roundness, longer tool life, and optimal surface finishes.

A 24 position turret mounts BMT65P live and stationary tools directly to the turret's periphery. The turret's 7.5 Hp motor turns live tooling at speeds up to 5,000 rpm. Tool-to-tool indexing time is a quick 0.15 seconds.

The Puma 2600SY is designed for parts up to 14.8" diameter and 29.9" long. An elongated-bed version produces parts up to 50.4" long. The spindle is powered by a 35 Hp spindle motor generating speeds up to 4000 rpm. The Y-axis movement is achieved by linear interpolation and the synchronous movement of X1 and X2 axes. This makes possible a lower machine height for greater stability.

Other features that make the Puma 2600SY a paradigm in its industry include easy accessibility to the turret, spindles, and other maintenance areas; a coolant tank that can be removed without disengaging the chip conveyor; a series of heat shields and fans to prevent heat transmission to the machining area; and automated tool setting and tail stock functions. The controller is of the Fanuc i series with a 10.4" color TFT LCD monitor and Doosan's Easy Operation Package.

Visitors are invited to see a demonstration of the Puma 2600SY at Doosan's front-row IMTS exhibit, booth S-8100.

More from Architectural & Civil Engineering Products