Dual-Socket Bladed and Server Platforms use 8-Core Xeon® CPU.
Press Release Summary: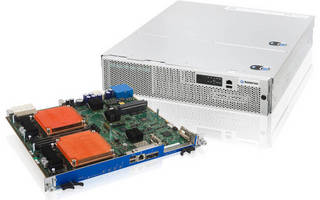 For compute-intensive and content-aware network applications, AT8060 dual-socket AdvancedTCA® 10GbE node blade comes with up to 16 processor cores or 32 threads, 4 memory channels per processor running at 1,600 MHz, one AdvancedMC(TM) bay, and intelligent power management controls. NEBS-3 compliant communication rack mount server, CG2200, has 2U, 20 in. deep form factor; flexible I/O and storage options; and dual-socket design with 8-core Intel® Xeon® processor E5-2600 series.
---
Original Press Release:

Kontron Harnesses the Power of the 8-Core Intel® Xeon® Processor E5-2600 Family with Dual-Socket Bladed and Server Platforms



Telecom equipment manufacturers benefit from jump in multicore performance, I/O, memory and inter-processor bandwidth on new Kontron AdvancedTCA® node blade and NEBS-3 rack mount server

Montreal, Canada - Kontron today announced the official arrival of two new carrier grade products that channel the incredible performance and bandwidth of the new 8-core Intel® Xeon® processor E5-2600 family.

AdvancedTCA® Node Blade AT8060
Based on the standardized Advanced Telecom Computing Architecture (AdvancedTCA®) specification, Kontron unveils the 'dual-socket' AdvancedTCA® 10GbE node blade AT8060. Featuring a total of up to 16 processor cores or 32 threads, four memory channels per processor running at 1600 MHz, one AdvancedMC(TM) bay, and new intelligent power management controls, the Kontron AT8060 makes for a total powerhouse and 'must-have' node blade, best used for high-compute and content-aware network applications implemented on Kontron 10G and 40G AdvancedTCA® Open Modular Core Platforms.

NEBS-Compliant Communications Rack Mount Server CG2200
With a long and proven history dedicated to designing 'long-life' carrier grade communication servers, Kontron also introduces the NEBS-3 compliant communication rack mount server CG2200. Featuring a 'dual-socket' approach with the 8-core Intel® Xeon® processor E5-2600 family, this Kontron server combines high memory, flexible I/O and storage options, and dual redundant AC or DC power options into a compact 2U, 20-inch deep form factor.

"Kontron's expertise lies in how well it leverages each new generation of Intel® multicore technologies into best-in-class bladed and server platforms,' said Dirk Finstel, CTO of Kontron. "Kontron commercial-off-the-shelf communication platforms together with the Intel® Xeon® processor E5-2600 family will provide equipment vendors outstanding design possibilities for both the carrier cloud and wireless networks."

"To meet the high-bandwidth demands of carrier subscriber services, TEMs increasingly rely on vendors like Kontron to generate innovative, high performance server designs that can do appreciably more within thermally constrained applications," said Benoit Robert, Executive Director, product management, Kontron. "Kontron selected the Intel® Xeon® processor E5-2600 family as the superior 2-socket processor option for TEMs to design their next generation network system designs, and clearly represents a new era in overall performance, I/O, and memory capabilities."

"The new 32nm Intel® Xeon® processor E5-2600 family delivers the latest server-class technologies to the telecom equipment market segment," said Steve Price, director of marketing, Communications Infrastructure Division, Intel. "This new platform is ideal for wireless infrastructure, ranging from access systems to core network elements, and supports the delivery of rich multimedia content and interactive applications."

Benefits of Designing with Dual Intel® Xeon® Processor E5-2600 Family
The 32nm Intel® Xeon® processor E5-2600 family introduces a multitude of enhancements intended to significantly improve processor performance over previous generations, plus lower latency and intelligently save power. It is the first dual-socket server-class Intel® processor to integrate PCI Express 3.0, thus enabling the I/O hub to be removed to save blade- or board-level real estate.

Kontron selected the Intel® Xeon® processor E5-2600 family because of its exemplary performance and maximized feature set, ideal for telecom and network equipment manufacturers (TEMs/NEPs) planning to go to market with high-bandwidth infrastructure used in carrier cloud computing and 4G LTE EPC networks.

Both the Kontron AT8060 and CG2200 each benefit from the following advancements:

Massive I/O bandwidth increase: a total of 80 lanes of PCIe (40 lanes per processor);

Faster memory bandwidth: each processor has 4 channels running at 1600MHz, a 60% improvement over previous generation Intel® Xeon® processor 5600 series;

Large inter-processor connection: reduced latency with two 8GT/s QPI, which accelerates access a processor needs to access resources (PCIe and/or memory) attached to second processor;

More cores, same power budget: Kontron supports up to 8 cores (16 threads) with the same power budget that allowed only 4 to 6 cores previously. Dual-socket supplies 16 cores (32 threads);

In summary, both new Kontron products with new Intel® Xeon® processor E5-2600 family provide approximately 3x more performance and memory speed (2.7x more cores and 3.2x more memory bandwidth) than previous generations.

Intel® additionally introduced Data Direct I/O Technology (Intel® DDIO) to reduce memory accesses from I/O on local socket and speed up processor data transfers. Security features include Execute Disable (XD) and Intel® Trusted Execution Technology (Intel® TXT) for malware resistance, and Intel® AES New Instructions for data and asset protection.

Kontron Active Power Management
Kontron has developed Active Power Management, a software interface for clients to intelligently pre-set and regulate the processor power settings on its AdvancedTCA® processor blade via the Intel® Node Manager embedded in the Intel® Xeon® processor E5-2600 family. The Active Power Management fully integrates existing Kontron Management Solutions and is accessible using known standards such as IPMI and PICMG® interfaces. It allows dynamic power monitoring, power capping controls, and power threshold alerting, thus enabling platforms to achieve maximum performance and power for a single node.

More Kontron Technical Highlights
Kontron 10G node blade AT8060 - 16 cores across 2 Sockets, AMC Slot
This is a sixth-generation Intel® processor-based ATCA® node blade from Kontron and accommodates an AMC slot in conjunction with a dual socket, 8-core per processor approach. This enables further customization by populating the blade with other specialized AMCs including packet processing and storage modules.

Dual 8-core Intel® Xeon® processor E5-2600 family, 16T (16C, 32T per 2S E5 system)

High bandwidth, low latency, bi-directional ring interconnect allows faster access to 20MB multi-banked last level cache

Dual 8GT/s QPI interfaces between both processors for lowest PCIe and memory latency

Total of 128 GB Memory (Up to 64GB DDR3 on 4 DIMM per processor)

AMC bay with PCIe x8 Gen2 + SATA connectivity

Kontron Active Power Management via Power Node manager

Integrated SAS

Rear Transition Module RTM8063 with 2 hot swap 2.5'' SAS hard drives

Kontron 2U Carrier Grade Communication Rack Mount Server CG2200
Kontron designed the CG2200 with high-density processing performance and an optimized I/O and storage feature set, with either dual redundant AC or DC power options. This 20" deep ruggedized server is built to meet NEBS level-3 compliance and is backed by an extended lifecycle.

Dual 8 Core Intel® Xeon® processor E5-2600 family, 16T (16C, 32T per 2S E5 system)

16 slot, 4 channel support of DDR3 RDIMM/UDIMM; supports 256GB maximum (with 16GB DIMM);

Supports 2 PCI-E risers (4 FL/FH cards) and 2 LP cards (one internal without rear I/O accessibility); for a total of 6 PCI-E IO cards;

Up to 6 Hot-Swap 2.5" SAS/SATA HDDs

Hot swap, redundant fans

Integrated BMC (iBMC) with advanced options; RMM4

Front panel: 1 serial, 1 USB 2.0

Rear panel: 1 serial, 4 USB 2.0, 1 management NIC port

Quad rear GbE NIC ports (standard)

Reducing the 'Total Cost of Ownership'
In the rush to deploy new network solutions to the carrier market, TEMs cannot afford to waste valuable resources on non-core competencies. From initial product conception to market deployment, Kontron alleviates this challenge by working with TEMs to manage the complex validation and integration of all building-block hardware and software components up to the application layer. Kontron enables telecom, network, and broadcast equipment manufacturers across the globe to lower their total cost of ownership with open communication platforms that are application ready and uniquely adapted to their network infrastructure requirements.

Kontron AT8060 and CG2200 are available now.

For more information on the Kontron 10G node blade AT8060, please go to: http://www.kontron.com/products/boards+and+mezzanines/advancedtca/processor/at8060.html

For more information on the Kontron 2U Carrier Grade Communication Rack Mount Server CG2200, please go to: http://www.kontron.com/products/systems+and+platforms/communication+rackmount+servers/carrier+grade+servers/cg2200.html

For more information about AdvancedTCA®, please go to: http://www.kontron.com/AdvancedTCA

For more information about Communication Rack Mount Servers, please go to: http://www.kontron.com/CRMS

About Kontron
Kontron is a global leader in embedded computing technology. With more than 30% of its employees in Research and Development, Kontron creates many of the standards that drive the world's embedded computing platforms. Kontron's product longevity, local engineering and support, and value-added services, helps create a sustainable and viable embedded solution for OEMs and system integrators. Kontron works closely with its customers on their embedded application-ready platforms and custom solutions, enabling them to focus on their core competencies. The result is an accelerated time-to-market, reduced total-cost-of-ownership and an improved overall application with leading-edge, highly-reliable embedded technology.

Kontron is listed on the German TecDAX stock exchange under the symbol "KBC". For more information, please visit: http://www.kontron.com/