Dual-Picture Video Processor suits automotive display panels.
Press Release Summary: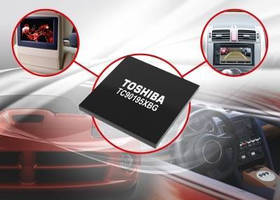 Combining 10-bit AD converter, multi-color decoder to accommodate all major video formats, and power-supply voltage of 1.2 V/3.3 V, Model TC90195XBG supports high-resolution widescreen displays up to 1920 x 720 pixels. Processor features 2-picture composition mode and picture-separation mode with internal frame memory. Device can simultaneously output 2 digital video signals to 2 panels, with resolutions of 1,280 x 720 (LVDS output) and 800 x 480 (LVTTL output).
---
Original Press Release:

Toshiba Launches High-Quality Dual-Picture Video Processor for High-Resolution Automotive Display Panels



Processor enables high-quality video for simultaneous dual-screen display on automotive LCD panels



SAN JOSE, Calif., – Toshiba America Electronic Components, Inc. (TAEC)*, a committed leader that collaborates with technology companies to create breakthrough designs, today rolled out a new dual-picture video processor for high-resolution automotive displays. In-vehicle driver support information displays are growing in use, prompting demand for larger panels with higher resolution. Toshiba's new TC90195XBG video processor supports high-resolution widescreen (1920x720 pixels) panels, improving on the support for wide VGA (800x480) provided by the company's existing product(1). In addition, the TC90195XBG can also simultaneously output two digital video signals to two panels, instead of just one.



"According to IHS Automotive, the annual market for vehicle display systems is expected to reach nearly $19 billion by 2021(2)," said Deepak Mithani, senior director, Mixed Signal Business Unit, System LSI Group at TAEC. "These larger displays will require reliable video processor chips to ensure their ability to reliably display safety, infotainment, and other driver information with high picture quality. Toshiba designed the TC90195XBG to accommodate these needs, including its ability to output images to two in-vehicle displays - another key trend. We will continue expanding our automotive video processor line-up to meet growing demand."



The new video processor features two-picture composition mode and picture-separation mode with internal frame memory. The input stage complies with LVDS(3) (OpenLDI), LVTTL(4) and analog video signal, and a single image is composed from these signals and transmitted to the primary display. The device can separate the signals and output them independently to two panels, with resolutions of 1280x720 (LVDS output) and 800x480 (LVTTL output).



The TC90195XBG's built-in three-channel picture-improver circuit boosts low-resolution images for display on high-resolution panels. It features dynamic YC gamma, color management, and HVD enhancement. The processor includes a 10-bit AD converter, multi-color decoder to accommodate all major video formats (NTSC, PAL, SECAM), and power-supply voltage of 1.2V / 3.3V.



Availability

Samples of the TC90195XBG dual-picture video processor are available now. Mass production is scheduled for June 2016.



1. Compared with the existing product, TC90197XBG.

2. Automotive Display Market Tracker, published December 14, 2015, by IHS.

3. LVDS = low-voltage differential signaling, also known as technical standard TIA/EIA-644.

4. LVTTL = low-voltage transistor-transistor logic.



*About TAEC

Through proven commitment, lasting relationships and advanced, reliable electronic components, Toshiba enables its customers to create market-leading designs. Toshiba is the heartbeat within product breakthroughs from OEMs, ODMs, CMs, VARs, distributors and fabless chip companies worldwide.  A committed electronic components leader, Toshiba designs and manufactures high-quality flash memory-based storage solutions, solid state drives (SSDs), hard disk drives (HDDs), solid state hybrid drives (SSHDs), discrete devices, custom SoCs/ASICs, imaging products, microcontrollers, wireless components, mobile peripheral devices, advanced materials and medical tubes that make possible today's leading smartphones, tablets, cameras, medical devices, automotive electronics, industrial applications, enterprise solutions and more.



Toshiba America Electronic Components, Inc. is an independent operating company owned by Toshiba America, Inc., a subsidiary of Toshiba Corporation, Japan's largest semiconductor, solid state drive and hard disk drive manufacturer and the world's seventh largest semiconductor manufacturer (Gartner, 2015 Worldwide Semiconductor Revenue, January, 2016). Founded in Tokyo in 1875, Toshiba is at the heart of a global network of over 580 consolidated companies employing over 199,000 people worldwide. Visit Toshiba's web site at http://toshiba.semicon-storage.com.



© 2016 Toshiba America Electronic Components, Inc. All rights reserved. Information in this press release, including product pricing and specifications, content of services and contact information, is current and believed to be accurate on the date of the announcement, but is subject to change without prior notice.  Technical and application information contained here is subject to the most recent applicable Toshiba product specifications.



COMPANY CONTACT:

Deborah Chalmers

Toshiba America Electronic Components, Inc.

Tel.: (408) 526-2454

deborah.chalmers@taec.toshiba.com



Web Site: http://www.toshiba.com/taec

More from Printing & Duplicating Equipment