Dual-Mode Bluetooth v4.0 Modules suit industrial environments.
Press Release Summary: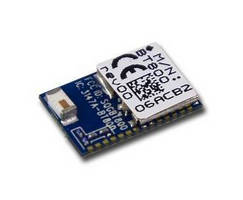 With Class 1 range and dual-mode, or Bluetooth Smart Ready™ support, BT800 Series enables connections to devices that support BLE and Classic Bluetooth. HCI modules support full speed USB interface plus GPIO as well as I2S and PCM audio interfaces. Measuring 8.5 x 13 mm with 8 dBm output power, modules are suitable for adding Bluetooth connectivity to any device with Bluetooth software stack. HID Proxy Mode enables out-of-the box HID connectivity for devices such as keyboard and mouse.
---
Original Press Release:

Laird Launches First Bluetooth v4.0 Dual-Mode Modules



BT800 Series USB HCI modules designed for industrial environments



Laird, a global technology company, announced the release of  its first dual-mode Bluetooth v4.0 modules. The high performance Class 1 Bluetooth 800 Series modules, along with associated development kits, are available now in mass-production quantities from all   Laird global distributors.



Key application areas for the BT800 Series modules include AIDC devices, such as handheld computers and barcode scanners, medical devices, ePOS terminals, and industrial cable replacement. The new BT800 Series modules offer dual-mode, or Bluetooth Smart Ready™ support, enabling connections to devices that support BLE and Classic (pre-v4.0) Bluetooth. 



"With Class 1 range and dual-mode support, our new BT800 series modules are the right choice for OS backed devices that need a cost-effective, high-performance solution for connecting to Bluetooth devices, old and new," said Laird Product Manager Jonathan Kaye. "A packaged Laird USB dongle option is also available for greater flexibility and cost-effectiveness in serving a variety of additional applications."



The Laird BT800 Series modules are ideal for applications where designers require maximum performance in a small size. With a tiny footprint (8.5 x 13 mm), yet output power at 8 dBm, a BT800 Series module is perfect for adding robust, long-range Bluetooth data connectivity to any device that has its own Bluetooth software stack. The series also features HID (Human Interface Device) Proxy Mode, enabling out-of-the box HID connectivity for devices such as a keyboard and mouse. 



For maximum flexibility in systems integration, the modules are designed to support a full speed USB interface plus GPIO and additionally I2S and PCM audio interfaces. All BT800 Series modules present a Bluetooth standard HCI interface and have native support for a wide range of Windows and Linux Bluetooth Software stacks.



"Laird eases integration and speeds time to market by providing a low-cost developer's kit, full certifications, quick and responsive global support, and a strong global supply chain of distributors with development kits always in stock," added Kaye.



Laird's BL600 Series modules, which made their debut in April of this year, offer a simple way to add single-mode BLE, or Bluetooth Smart ™, to small, portable, power-conscious devices. "Our BL600 series modules are the right choice for a broad range of sensors and devices that need Bluetooth Smart," said Kaye. "The BT800 series modules now add Bluetooth Smart Ready™, enabling connections to both Bluetooth Smart™ devices and Classic Bluetooth devices."



Embedded wireless solutions from Laird include Summit Wi-Fi radio modules, a full line of Bluetooth® radio modules and innovative RAMP radio modules. These unique product solutions are ideal for applications in the industrial, medical, and M2M communications industries.



About Laird

Laird is a global technology business focused on enabling wireless communication and smart systems, and providing components and systems that protect electronics.  Laird operates through two divisions, Wireless Systems and Performance Materials.  Wireless Systems solutions include antenna systems, embedded wireless modules, telematics products and wireless automation and control solutions.  Performance Materials solutions include electromagnetic interference shielding, thermal management and signal integrity products.



As a leader in the design, supply and support of innovative technology, our products allow people, organisations, machines and applications to connect effectively, helping to build a world where smart technology transforms the way of life. Custom products are supplied to major sectors of the electronics industry including the handset, telecommunications, IT, automotive, public safety, consumer, medical, rail, mining and industrial markets.  Providing value and differentiation to our customers through innovation, reliable fulfilment and speed, Laird PLC is listed and headquartered in London, and employs over 9,000 people in more than 58 facilities located in 18 countries.



Contact Information

For additional information, visit http://www.lairdtech.com or contact us at:

Americas: +1-800-492-2320

Europe: +44-1628-858-940

Asia: +852-2932-0610

Email: WirelessInfo@lairdtech.com



Translations

Translated versions of this press release are available in Simplified and Traditional Chinese, Japanese, Korean, and German languages.



Trademarks

© 2013 All rights reserved.

Laird, Laird Technologies and the respective logos are trademarks owned by Laird Technologies, Inc. and/or Laird PLC, either directly or indirectly through one or more subsidiaries. Other products, logos, and company names mentioned herein, may be trademarks of their respective owners.



Contact information: Jannette Avila, Laird Technologies, 3481 Rider Trail South, Earth City, MO 63045