Drying Systems remove water from hydrophilic foams.
Press Release Summary: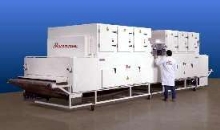 Macrowave(TM) Foam Drying Systems heat and uniformly dry hydrophilic foams evenly throughout entire thickness. Systems apply radio waves to foam webs or buns up to 4 ft thick at frequency of 40.68 MHz, which rapidly remove water without surface discoloration, cupping caused by non-uniform shrinkage, and surface hardening. They can also dry water-based glues in construction of foam laminations up to several feet thick.
---
Original Press Release:

Macrowave Drying Systems Improve Quality and Productivity in the Production of Hydrophilic Foams


Radio Frequency Company of Millis Massachusetts raises the bar again with its latest generation of Macrowave(TM) Foam Drying Systems which gently heat and uniformly dry hydrophilic foams evenly throughout their entire thickness in a fraction of conventional drying times. Macrowave(TM) Systems apply radio waves to foam webs or buns up to four feet thick at a frequency of 40.68MHz which rapidly removes water without the quality control problems associated with conventional drying systems such as, surface discoloration , cupping caused by nonuniform shrinkage, and surface hardening.

Macrowave(TM) Systems are also capable of drying water-based glues used in the construction of foam laminations up to several feet thick. Because Macrowave(TM) energy will preferentially heat materials where the water content is the highest, the wet glues are heated and dried without directly heating the cured foams, avoiding quality problems associated with overheating.

Radio Frequency Company offers its Process Development Laboratory services in Millis, MA to assist clients in developing the most efficient means to accomplish their foam processing objectives. Featuring the Macrowave(TM) OmniTherm(TM) Simulator which can apply RF and conventional heat to simulate actual production conditions and provide a computerized record of all process parameters enabling accurate scale-up requirements. Lease systems are also available for conducting in-plant trials.

For more information contact:
Radio Frequency Co., Inc.
Tim Clark, V.P., Marketing
150 Dover Road
Millis, MA 02054-0158 USA
e-mail: tclark@radiofrequency.com
www.macrowave.com

More from Electronic Components & Devices