Drum and Ball Lenses improve coupling between surfaces.
Press Release Summary: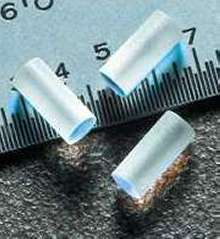 Tech Spec Ball Lenses have high index of refraction to reduce back focal length. They are available in 1-8 mm dia, with tolerances of +0/-3 mm, 40-20 surface quality, and 2 mm sphericity. Lenses have refractive index 2.0 and Abbe Number of 28.3. Drum lenses provide cylindrical mounting surface and include one planar surface. They are available with index of 1.517 or 1.850 and come in 2.0, 2.4, 3.2, and 4.0 mm dia.
---
Original Press Release:

Edmund Industrial Optics Announces Tech Spec Ball and Drum Lenses


February 12, 2003, Barrington, NJ - Edmund Industrial Optics (EO) of Barrington, New Jersey has announced the release of two types of lenses in the Tech Spec family.

Tech Spec Ball Lenses are available with an unusually high index of refraction. Ball lenses are great tools for improving coupling between fibers, emitters, and detectors. The higher refractive index reduces the back focal length, allowing users to design systems with unusually tight space requirements. It is excellent for fiber coupling, endoscopy, bar code scanning, and sensor applications -- or the ball lens can be used as preform for aspheric lenses. The ball lenses are available in diameters ranging from 1 to 8mm, with diameter tolerances of +0/-3 mm, 40-20 surface quality, and 2 mm sphericity. The lens is made from Ohara's 2-LAH79 glass, which has a refractive index 2.0 and Abbe Number of 28.3.

Drum lenses are ball lenses that have been ground down axially: they have the same optical surfaces as ball lenses, but provide a cylindrical mounting surface to ease handling. The innovative Tech Spec Type B Drum Lenses also include one planar surface, which can be used to butt the lens right up to a fiber end or for use as a PCX lens. The lenses, available in BK7 (index of 1.517) or LaSFN9 (index of 1.850), are available in diameters of 2.0, 2.4, 3.2, or 4.0 mm.

About Edmund Industrial Optics Inc.
Edmund Optics (EO) has been a leading supplier of optics and optical components to industry since 1942, designing and manufacturing a wide array of multi-element lenses, lens coatings, imaging systems, and opto-mechanical equipment. EO is application-focused and pursues new ways to implement optical technology, enabling advancements in semiconductor manufacturing, industrial metrology, and medical instrumentation. Our staff and facilities span the US, Europe, Singapore, Japan, and China. EO's skilled optical engineers design precision products for use in research, test & measurement applications, and for the automation of manufacturing processes. Visit www.edmundoptics.com to learn more.

Julianne Wagner
Edmund Industrial Optics
856-573-6250 ext. 6158
jwagner@edmundoptics.com


More from Test & Measurement