DRML1 Load Monitoring Module monitors up to 8 heating elements from 1.2 Amps up to 50 Amps current range.
Press Release Summary: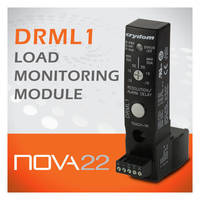 Designed for NOVA22 solid-state relays, DRML1 Load Monitoring Module measures the current value and compares it against a pre-set value stored during installation. Applicable in quality supervision of plastic parts production in injection molding, thermoforming machines and rubber parts production. DRML1 Module operates in temperatures between 25°C to +70°C, monitoring of up to 8 loads, and, current rating of 20 Amps to 50 Amps.
---
Original Press Release:
DRML1, Crydom's Load Monitoring Module Designed to Detect Partial or Total Load Failure of Up to 8 loads and 50 Amps
Crydom introduces the DRML1 Load Monitoring Module, specially designed for NOVA22 solid-state relays which allows to monitor up to 8 heating elements, with similar current value, for a total current ranging from 1.2 Amps up to 50 Amps.

The DRML1 module measures the current value and compares it against a pre-set value (Teach value), which is stored during installation. Normal operation is monitored and failures are detected. An alarm is activated when the module detects undercurrents in the heating circuit below -12.5% of the nominal current. The module allows also for other alarm conditions to be detected such as: overcurrent condition (when the current exceeds the maximum of +12.5% of the nominal current), blown fuses (open load), damaged (short circuited SCR) and interrupted SSR, as well as those in half-wave operation. The nominal current value (Teach value) is set by the operator either with the "Teach-In" push button, placed on the front, or with the external "Teach-In" input.

The new DRML1 Load Monitoring Module offers three unique features in the market. It allows the user to select the maximum current value of 20 Amps or 50 Amps, operates with a minimum partial load detectable value of 150 mA and includes an adjustable alarm response delay (0.1 sec, 1 sec or 5 sec), selectable via a parameter selector switch. This avoids fault messages generated by voltage drops.

Malfunctions are indicated by a multicolor LED and can be localized systematically thanks to the alarm output which allows up to 128 DRML1 modules to be connected to a collective alarm. The LED indicates when power is ON and also when the Teach-In function is activated (Blue), when the input signal is ON (Green) and when an alarm condition is activated (Red).

The DRML1 is designed for direct installation on NOVA22 Solid State Relays contactor configuration versions (both Panel Mount PM22 Series and DIN Rail Mount DR22 Series models). The plastic enclosure provides IP20 level protection.

DRML1 can be used in different applications but its key advantages make it ideal for quality supervision of plastic parts production in injection molding machines, thermoforming machines and rubber parts production.

Main features include:
Up to 8 loads can be monitored
Selectable max current rating: 20 Amps or 50 Amps
Selectable alarm delay (0.1 sec, 1 sec, 5 sec)
Minimum current for single load: 150 mA
Alarms detected: undercurrent, overcurrent, open mains voltage, SSR fault
Alarm output: PNP open collector, 6-28 VDC, 100 mA
Up to 128 modules can be connected in parallel
Operating temperature: -25°C to +70°C
Pluggable module for both DIN Rail and Panel Mount NOVA22 SSRs
Multicolor LED with input status and alarm indication
Crydom's DRML1 Module is C-UL-US Recognized and compliant to IEC 61000-4 (EMC) and IEC 60068-2 (Shock and Vibration) requirements. It's also CE compliant to the Low Voltage Directive as well as the RoHS Directive.

For more information on the DRML1 Module contact a Crydom Distributor, Representative or Local Crydom Sales Office, or visit our website at www.crydom.com.

About Crydom

Crydom, global expert in solid state switching technology, combines technology and innovation to provide customers a wide range of standard Solid State Relays and Solid State Contactors, and specializes in custom designed solid state switching solutions for any load control application. Crydom is a brand of Sensata Technologies.

About Sensata Technologies Sensata Technologies is one of the world's leading suppliers of sensing, electrical protection, control and power management solutions with operations and business centers in 16 countries. Sensata's products improve safety, efficiency and comfort for millions of people every day in automotive, appliance, aircraft, industrial, military, heavy vehicle, heating, air-conditioning and ventilation, data, telecommunications, recreational vehicle and marine applications.

For more information please visit Sensata's website at www.sensata.com .

For additional information, please contact: Gabriela Miranda +1(619) 210-1556
marketing@crydom.com 2745 Paseo de las Americas
5014 San Diego,
CA, 92154
USA
Tel: (877) 502 5500 Fax: (619) 210 1590
sales@crydom.com

Everdene House,
Deansleigh Road Wessex Fields,
Bournemouth, Dorset,
BH7 7DU, United Kingdom
Tel: +44 1202 416170
Fax: +44 1202 416171
sales-europe@crydom.com
More from Fluid & Gas Flow Equipment