Direct Mount Ball Valves have low operating torque.
Press Release Summary: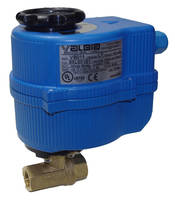 Available in 2- and 3-way configurations in both brass and stainless steel, 8E Series (electric) and 8P Series (pneumatic) include models from ¼–4 in. with T port, L port, full port, or standard port options and double acting or spring return actuators. Design incorporates O ring back TFE seats to reduce operating torque. Minimum air supply required for 8P is 80 psi.
---
Original Press Release:

New 8E / 8P Series Ball Valves Designed with the Lowest Operating Torque in the Industry



All 8E Series Electric and 8P Series Pneumatic Direct Mount Ball Valves are available in 2-way and 3-way configurations in both brass and stainless steel. The 8E and 8P Series valves feature exclusive valve seat design which requires smaller actuators and allows much smaller package profiles.



Hudson, MA – Clark Solutions introduces their 8E Electric and 8P Pneumatic Series Direct Mount Ball Valves.  Featuring the lowest possible operating torque compared to all other ball valves used in industry today, 8P Series Ball Valves require only a minimum of 80 PSI air supply. Clark Solutions' new 8E and 8P Series Ball Valves are offered in a wide variety of models, from 1/4" to 4" brass or stainless steel, in 2-way or 3-way configurations, with T port, L port, full port, or standard port options, and with double acting actuators or spring return actuators.



The traditional "floating" style ball valve used today has sealing components that are forcibly compressed together in order to make an effective ball to seat connection to ensure tight sealing.  However, the end result of this design creates the need for a high initial breakaway torque because when operated, the ball is attempting to dislodge itself from the downstream seating surface. 8E and 8P Series Direct Mount Ball Valves incorporate technologically advanced "O" ring back TFE seats to dramatically reduce operating torque. Viton O-rings are inserted into grooves formed and located on the backside of the TFE seat, preassembled as a unit and then assembled into the valves. The ball valve is assembled and tested with the O-rings exerting only a minimum amount of pressure on the TFE seats. The O-rings in turn seal on both the upstream and downstream side of the ball. Due to light force exerted, only a "single point" of each seat comes in contact with the ball.



The technological advancement of superior stem sealing and the O-ring back seat design has allowed 8E and 8P Series Direct Mount Ball Valves to enjoy the reputation of having the highest performance and lowest operating torque in the industry. Lower operating torque equates to the use of smaller size actuators and a smaller package profile. An additional design feature of the 8E and 8P Series Direct Mount Ball Valves is the use of dual Viton O-ring seals along with two TFE auxiliary seals to provide an excellent stem seal that does not require field adjustment.



Clark Solutions has a fifty-year history of providing unique solutions to the control, measurement, and monitoring of flow, energy, pressure, force, and level in liquids and gases.  Located in Hudson, Massachusetts, the company offers a wide range of valves, including ball valves, pneumatic valves, inert isolation valves, solenoid operated valves, valve actuators, pinch valves, manifold valves, globe valves, butterfly valves, needle valves, and miniature and subminiature valves. Instrumentation offerings include devices to record, monitor, and control flow, velocity, pressure, temperature, humidity, level, gas concentration, energy, and other properties.  Clark Solutions also provides a wide variety of pumps for liquids, air, and gases, including gear pumps, peristaltic pumps, piston pumps, rotary vane pumps, diaphragm pumps, impeller pumps, centrifugal pumps, and bellows pumps.



For more information, contact Clark Solutions, 10 Brent Drive, Hudson, MA 01749, Tel. 800-253-2497, Fax 978-568-0060, email sales@clarksol.com, or visit our web site at http://www.clarksol.com.



8E Ball Valves

Product URL:  http://www.clarksol.com/html/ball-valves-8E-series.cfm



8P Ball Valves

Product URL:  http://www.clarksol.com/html/ball-valves-8P-series.cfm

More from Electronic Components & Devices