DIO and Relay Output Modules offer high noise immunity.
Press Release Summary: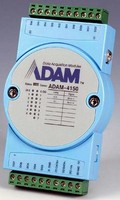 Designed for operation in harsh environments, ADAM-4150 digital I/O (DIO) module and ADAM-4168 relay output module are compact sensor-to-computer interface units that feature 1 kV surge protection on power inputs, 3 kV EFT, and 8 kV ESD protection. ADAM-4150 has 7 input channels and 8 output channels with overcurrent/short circuit protection, while ADAM-4168 has 8 form A output channels. Both have digital filter function and digital output support pulse function.
---
Original Press Release:

Advantech Launches New Digital I/O Module and Relay Output Module



The ADAM-4150 is a digital I/O module starting at $190 and ADAM-4168 is relay output module starting at $210.

(Cincinnati, Ohio - 04/18/2006) - The Industrial Automation Group of Advantech introduces the ADAM-4150 and 4168. These modules are compact, versatile sensor-to-computer interface units designed for reliable operation in harsh environments.

The ADAM-4150 includes seven input channels and eight output channels with over current/short circuit protection. The ADAM-4168 has eight form A output channels.

Common features of the ADAM-4150 and 4168 include: high noise immunity (1 kV surge protection on power inputs, 3 kV EFT, and 8 kV ESD protection), broad operating temperature range, power input range of +10 ~ +48 VDC, LED display to monitor the status of the address settings, digital filter function, digital output support pulse function, and Modbus RTU protocol.

The ADAM-4150 and 4168 start at $190 and $210 respectively and is available for purchase directly from Advantech at 1-800-205-7940 or from one of Advantech's North American distributors at eautomationpro.com/us.

Advantech Corporation, Industrial Automation Group - Founded in 1983, Advantech is a global leading ePlatform service provider integrating web-based technology, computing platforms and customization services that empower the connected eWorld. Advantech cooperates closely with system integrators to enable them in providing complete solutions for a wide array of applications in various industries. Advantech delivers more than a thousand products and solutions under 3 main categories: Embedded & Applied Computing, Industrial and Network Computing, and eAutomation. With the combined talent of more than 2,000 people, Advantech operates an extensive support, sales and marketing network in 16 countries and 28 major cities to deliver fast time-to-market services to our worldwide customers. US operations for the Industrial Automation Group, 1320 Kemper Meadow Drive, Suite 500, Cincinnati, OH 45240. Website for Advantech customers in North America: eautomationpro.com/us Emal: info@advantech.com

Chuck Harrell
Advantech Corporation, Industrial Automation Group
(513) 742-8895 x333
website: eautomationpro.com/us

More from Controls & Controllers