Digitizer/Oscilloscope Cards offer up to 4 Gigasample memory.
Press Release Summary: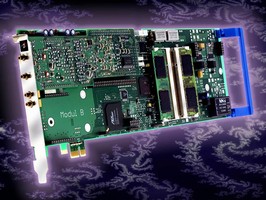 Model UF2e-2020 8-bit PCI Express card has two 50 MS/s channels, while UF2e-2021 card has four 50 MS/s channels. Each channel has 8-bit ADC for simultaneous sampling, 7 programmable input voltage ranges from ±50 mV to ±5 V, offset adjustment to 400%, and 50 W and 1 MW input impedances. Cards can record signals for 40 sec on 2 channels and 20 sec on 4 channels. Alternatively, captured data can be streamed continuously to PC RAM or hard disk at up to 120 MS/s over PCIe bus.
---
Original Press Release:

Strategic Test Expands PCI Express Card Family with 4-Channel 50 MS/s 8-Bit Digitizer/Oscilloscope



New cards can store up to 4 billion samples on board

Woburn, MA USA - November 27, 2007. Strategic Test Corp has announced two new 8-bit digitizer / oscilloscope PCI Express cards. The UF2e-2020 has two 50 MS/s channels, while the UF2e-2021 has four 50 MS/s. Each channel has its own 8-bit ADC for simultaneous sampling, seven programmable input voltage ranges from ±50 mV to ± 5 V, offset adjustment to 400% and both 50 Ohm and 1 MOhm input impedances. Unique features of the UF2e-2020 and UF2e-2021 include the option for dual-timebase sampling, synchronous digital inputs, asynchronous digital I/O and the ability to synchronize up to 542 channels.

With up to 4 GigaSamples of on-board memory, the cards are able to record signals for 40 seconds on 2 channels and 20 seconds on four channels. Alternatively, captured data can be streamed continuously to PC RAM or hard disk(s) at up to 120 MSamples/s over the PCIe bus.

Drivers and programming examples for Microsoft Windows Vista, XP64, XP and Linux (RedHat, Fedora, SuSe, Sarge) are supplied with the card, as well as the SBench 5.3 oscilloscope program. SDK's for MATLAB, LabVIEW, Agilent-VEE, DASYLab and LabWindows/CVI are available as options.

Key specifications of the UF2e-2020 include:
64 MSamples memory --- expandable to 4 GSamples;
continuous streaming to host PC > 120 MSamples/s;
Effective Number of Bits > 7.6 LSB;
Signal-to-Noise Ratio > 47.5 dB;
Total Harmonic Distortion < -56.0 dB.

The standard -3dB bandwidth is > 25 MHz, the Wide Bandwidth option increases this to > 40 MHz.

Like all UltraFast boards, the UF2e-202x scope cards can be customized through hardware options to best match the application:
o Onboard memory: 64, 128, 256, 512, 1024, 2048 or 4096 MegaSamples
o Multiple Recording: memory segmentation
o Gated Sampling: output clock controlled by external TTL signal
o TimeBase : records time of trigger events or Gates
o ABA Mode: slow-fast-slow recording on trigger
o Star Hub: synchronization of up to 5 or 16 boards, or 5 to 16 PC's to a maximum or 271 boards. Can be used with Digitizer, AWG and Digital I/O boards to create mixed-mode systems
o Digital Inputs : adds 8 synchronous digital inputs
BaseXIO : adds 8 asynchronous digital I/O lines

Prices start at $3190 with volume/OEM discounts available.

About Strategic Test
Strategic Test is a world leading supplier of PC instrument boards and has offices in the USA and Europe. The company's clients include global electronics, semiconductor, defense, telecommunications and medical instrument companies, government funded research labs and universities on five continents.

The first high-speed measurement board for PC's was designed in 1989. Today the product range consists of more than 200 Oscilloscope/ Digitizer, Arbitrary Waveform Generator, high-speed Digital I/O and Digital Pattern Generator boards in the industry standard PCI Express, PCI, 3U PXI and 6U CompactPCI formats.

Each product can be individually configured from a choice of more than eight hardware options design to address the needs of specific applications. Software Development Kits are available for Microsoft Windows (Vista, XP64, XP, 2000, NT), Linux (Redhat, Debian, Suse, Fedora, Sarge), LabVIEW, MATLAB, LabWindows/CVI, DASYLab, Agilent-VEE and Excel.

All products are supplied with a two year hardware warranty and lifetime technical support and software updates.

For further information please contact:

Bob Giblett
President
Strategic Test Corporation
12 Alfred Street, Suite 300
Woburn, MA 01801-1915
Tel: (617)621-0080
Fax: (617)621-1414
Email: media@strategic-test.com
http://www.strategic-test.com

More from Electronic Components & Devices