Digital Temperature Sensors achieve accuracy of ±0.25°C.
Press Release Summary: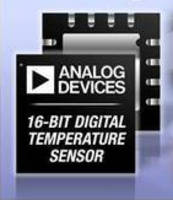 Operating from supply voltage of 2.7-5.5 V in temperatures from -40 to +150°C, 16-bit Models ADT7420 and ADT7320 are available with I²C and SPI digital interfaces, respectively. Sensors achieve ±0.25° accuracy over -20 to +105°C temperature range and ±0.5°C accuracy over -40 to +125°C range. Operating at 3.3 V, supply current is 210 µA. Sensors include low-power, 1 sample/sec mode that draws 46 µA at 3.3 V, and offer shutdown mode that reduces supply current to 2 µA.
---
Original Press Release:

Analog Devices' Digital Temperature Sensors Achieve Highest Accuracy of ± 0.25°C Over Industry's Widest Temperature Range



- New digital temperature sensors deliver higher precision, while offering cost-effective alternatives to thermistors and resistance temperature detectors.

Norwood, MA - Analog Devices, Inc. (ADI), a global leader in high-performance semiconductors for signal-processing applications, today introduced two fully calibrated, 16-bit-resolution, high-linearity digital temperature sensors that achieve the industry's highest level of precision over a wide operating temperature range. The high-precision, low-drift ADT7420 and ADT7320 digital temperature sensors achieve industry best ±0.25°C accuracy over a -20°C to +105°C temperature range. In addition the new sensors offer industry leading ±0.5ºC accuracy over the -40°C to +125°C temperature range. The higher accuracy eliminates the need to average results, ensuring faster data measurement, higher-precision control loops, and improved energy efficiency and reliability in industrial, instrumentation, and medical applications. The new digital temperature sensors also provide highly accurate system reference temperature measurement to reduce errors in software-based, thermocouple cold-junction compensation applications and infrared imaging systems. For more on specific features, watch the video.

Unlike alternative solutions the ADT7420 and ADT7320 digital temperature sensors are plug-in ready and require no additional signal conditioning or calibration. The offerings are available with I²C (ADT7420) or SPI (ADT7320) digital interfaces, which allow system designers to easily integrate the devices into data acquisition, optical communications, environmental control systems, medical equipment, or food and pharmaceutical temperature monitors.

About the 16-Bit Digital Temperature Sensors

ADI's new digital temperature sensors are guaranteed to operate over supply voltages from 2.7 V to 5.5 V with an operating temperature range of -40°C to +150°C. Operating at 3.3 V, the supply current is 210 µA (typical). The sensors include a low-power one-sample-per-second mode that draws only 46 µA (typical) at 3.3 V and also offer a shutdown mode that reduces supply current to just 2 µA. Additional programmable options include over/under-temperature and critical-temperature indicators.

Availability, Pricing and Complementary Parts

The ADT7420 and ADT7320 digital temperature sensors are sampling now and complement other Analog Devices components, including the ADuC7061 low-power, precision analog microcontroller.


Product  Sampling  Accuracy/Interface   Price Each    Packaging

                       Per 1,000   16-lead LFCSP

ADT7320    NOW   ±0.25°C SPI       $2.35   (lead frame chip scale package)

ADT7420    NOW   ±0.25°C I²C       $2.35    16-lead LFCSP

For more information, please visit: www.analog.com/pr/ADT7320 or www.analog.com/pr/ADT7420. Or download the ADT7320 data sheet, ADT7420 data sheet.

About Analog Devices

Innovation, performance, and excellence are the cultural pillars on which Analog Devices has built one of the longest standing, highest growth companies within the technology sector. Acknowledged industry-wide as the world leader in data conversion and signal conditioning technology, Analog Devices serves over 60,000 customers, representing virtually all types of electronic equipment. Celebrating over 40 years as a leading global manufacturer of high-performance integrated circuits used in analog and digital signal processing applications, Analog Devices is headquartered in Norwood, Massachusetts, with design and manufacturing facilities throughout the world. Analog Devices' common stock is listed on the New York Stock Exchange under the ticker "ADI" and is included in the S&P 500 Index.

Follow ADI on Twitter at http://www.twitter.com/ADI_News.

More from Services