Digital Slide Scanner offers 12-slide storage capacity.
Press Release Summary: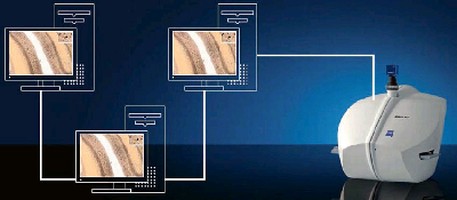 With horizontal loading system, MIRAX MIDI offers method of mounting both freshly cover-slipped slides and non-standard slides. Unit is modified to meet needs of clinical pathology departments and toxicopathology research laboratories by allowing ample walk-away time and simultaneous scanning of samples from dose and control group. Fluorescence option is available to enable scanning of slides in up to 10 different fluorescence channels at same time.
---
Original Press Release:
MIRAX MIDI Versatile Digital Slide Scanner ...
FROM CARL ZEISS OFFERS INNOVATIVE, VERSATILE DIGITAL SLIDE SOLUTION Thornwood, N.Y. - Carl Zeiss MicroImaging Inc., a leading provider of microscopy solutions for a variety of research, clinical and industrial applications, introduces the MIRAX MIDI digital slide scanner. With its innovative horizontal loading system, the MIRAX MIDI offers a reliable method of mounting both freshly cover-slipped slides and non-standard slides. Designed with a twelve slide storage capacity, the MIRAX MIDI is modified to meet the needs of clinical pathology departments and toxicopathology research laboratories by allowing ample walk away time and the simultaneous scanning of samples from both the dose and control group. The turnkey automation of the accompanying digital slide software creates ease of use, resulting in availability for teleconsultation and teleconferencing applications. The MIRAX MIDI combines excellent image quality and high scan speed in a compact and accessible design. A fluorescence option is available to enable the scanning of slides in up to 10 different fluorescence channels at the same time, making the MIRAX MIDI ideal for immunofluorescence and In situ hybridization (FISH) applications as well. For more information on the MIRAX MIDI, or other MIRAX systems available from Carl Zeiss, please visit zeiss.com/mirax. About Carl Zeiss MicroImaging, Inc. Carl Zeiss MicroImaging, Inc., a subsidiary of Carl Zeiss, Inc., offers microscopy solutions and systems for research, laboratories, routine and industrial applications. In addition, Carl Zeiss MicroImaging markets microscopy and digital pathology systems for the clinical market, as well as spectral sensors for industrial and pharmaceutical applications. Since1846, Carl Zeiss has remained committed to enabling science and technology to go beyond what man can see. Today, Carl Zeiss is a global leader in the optical and opto-electronic industries. With 11,249 current employees in the Group and offices in over 30 countries, Carl Zeiss is represented in more than 100 countries with production centers in Europe, North America, Central America and Asia. For more information on the breadth of solutions offered by Carl Zeiss MicroImaging, please visit www.zeiss.com/micro. Attention publishers: Please forward all Sales Inquiries to: Karin A. Salerno, Marketing Communications Manager Phone: (914) 681-7627 ; E-mail: ksalerno@zeiss.com
More from Services