Digital Oscilloscope has 12-bit digitizer.
Press Release Summary: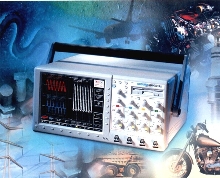 ACCURA 50 has low-noise amplifiers, Spurious Free Dynamic Range (SFDR) of greater than 75 dB over entire bandwidth, and 12-bit 5 MS/sec digitizer that provides 16 times more resolution than 8-bit scopes. It has up to 8 MegaWord memory per channel, 0.25% accuracy, 90 dB CMRR at probe tip, auto data transfer, and remote monitoring capabilities. DataSentry(TM) function automatically saves, prints, or sends data via Ethernet, USB, or modem at set times or upon trigger.
---
Original Press Release:

ACCURA 50 Plus Impressive New Features


Nicolet adds another model and more functionality to an already powerful platform

Madison, WI - Nicolet Technologies, a worldwide leader in quality analysis instrumentation, introduces another great addition to it's ACCURA family of high performance Digital Oscilloscopes, the New ACCURA 50 plus a round of impressive new features and functions.

The ACCURA 50's 12-bit, 5MS/s digitizers offer 16 times the resolution of ordinary 8-bit scopes enabling you to see signal variations that other DSOs miss. Combined with ultra low noise high accuracy amplifiers, the ACCURA 50 offers an unparalleled Spurious Free Dynamic Range (SFDR) of greater than 75dB over the entire bandwidth.

Nicolet also introduces "up to 8 MegaWord memory per channel", "0.25% accuracy and over 90dB CMRR at the probe tip", "dual video mode", "auto data transfer" and "remote monitoring" among the many new features on the already powerful ACCURA Series:
o 4 Mega Word and 8 MegaWord memory per channel options, extend worry free capture of transient events without compromising sample rate
o Nicolet's new IntelliProbe(TM) interface places the amplifier at the signal source enabling 0.25% accuracy and over 90dB CMRR at the probe tip for improved signal integrity
o Automatic data transfer to Excel, ProView or imPRESSion after every trigger, for instant analysis, data logging and reports. No more cumbersome file conversions
o Dual video mode displays Excel, ProView or imPRESSion analysis results on an external monitor and acquired data on the internal display simultaneously
o DataSentry(TM) automatically saves, prints or sends data via Ethernet, USB or modem to your email address at set times or upon a trigger for remote and unattended operation

The ACCURA 50 combines the power of a high resolution DSO with all the capabilities of a Windows PC in a single, integrated affordable package. Whether you need the simplicity of a basic high resolution DSO or the sophistication of an automated workstation, the solution is the ACCURA 50.

Nicolet Technologies, a Thermo Electron company, develops, manufactures, and markets state-of-the-art electronic instrumentation used in a broad range of automotive, power, aerospace, and other research applications.

U.S. prices begin at $16,490. Delivery 3-4 weeks ARO. Visit www.niti.comFor complete details, contact Mike Hoyer at 608-327-6643, fax 608-327-6700. Nicolet Technologies, 5225-4 Verona Road, Madison, WI 53711, USA


Related