Digital Oscilloscope features auto zero calibration.
Press Release Summary: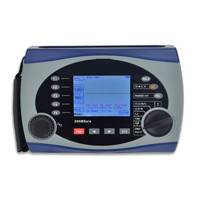 Designed to capture, store, analyze and replay up to 40 waveforms, Digital Oscilloscope with 200 × 135 × 52 mm dimensions displays maximum, minimum and current value on one screen. Featuring 78 mm × 58 mm display, unit comes with 20 kHz AC voltage bandwidth and can store up to 400 data groups as DMM and 40 waveform record as DSO. Offering graphic visualization of signals during fluctuations in voltage, product weighs 1 kg and prevents offset errors.
---
Original Press Release:
GAOTek Announces Ultra Portable and Versatile Digital Oscilloscope
GAOTek presents its ultra portable and versatile Digital Oscilloscope with Auto Zero Calibration that can capture, store, analyze and replay up to 40 waveforms. This lightweight oscilloscope is perfect for technicians and engineers on the move. Its auto calibration feature protects the integrity of your measurement and research, preventing errors such as offset error.
Digital oscilloscopes have served as important tools used by technicians, researchers and learning institutes alike, as they provide a graphic visualization of signals during voltage fluctuations with precise timing and shape of the pulses. This important attribute is at the center of GAOTek's digital oscilloscope with auto zero calibration. Weighing just 1kg and with an overall dimension of 200mm × 135mm × 52mm this is an incredibly handy device.
A memory capacity of 40 waveform record as a DSO and 400 data groups as DMM, extreme ease of use and portability, 78 mm × 58 mm display and an AC voltage bandwidth of 20 kHz make this a powerful tool for field engineers. The oscilloscope can simultaneously display maximum, minimum and current value on one screen. It boasts of a user friendly one button design for waveform display, and allows panel calibration without having to open the meter.
GAOTek has been viewed as one of major players in the global oscilloscope market by leading industry research providers such as Registrar Daily and MRS Group to name a few. This oscilloscope is one amongst the many market winning products by the company in this product line.
"With the digital oscilloscope market growing at about 5% CAGR globally, we expect a consistent growth in this product line in the coming years. Our expertise and industry experience enable us to innovate and provide cutting edge products. We will continue to enhance our digital oscilloscope product line to offer an impressive array of measurement capabilities along with a reduced form factor," said Dr. Frank Gao, CEO, GAO Group.
The product is available on http://www.GAOTek.com, as well as some leading e-commerce marketplaces.
GAOTek Inc. now offers one of the world's largest selections of advanced fiber optics Instruments, fiber optic transceivers, telecommunication testers, electronic measurement instruments, video surveillance, general test and measurement equipment, civil engineering, mechanical engineering, chemical engineering and other engineering products that satisfy the needs of global technical professionals.
GAOTek serves customers from more than 50 countries. GAOTek is known for the high quality and the good value of its products. Its strong technical support team provides excellent support for its products.
GAOTek Inc. is a member of GAO Group of Companies, headquartered in Toronto, Canada with a strong global presence. GAO Group consists of GAO RFID Inc. (http://www.GAORFID.com), GAOTek Inc., and GAO Research Inc. (http://www.GAOResearch.com), all being leaders in their respective markets.
Contact:
Gao Group Inc.
Canada
Toronto NB
Phone: +1-416-292-0038
Email: sales@gaotek.com
More from Communication Systems & Equipment