Digital Microscope provides precision measurement.
Press Release Summary: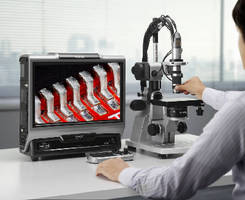 With 16-bit imaging resolution, 65,536 brightness levels, and over 2.8 trillion colors, VHX-1000 Series performs real-time, on-screen measurement of distance, radius, angle, and area of target. DOUBLE'R automatic lens/zoom recognition system enables unit to recognize, in real-time, which lens is mounted to camera as well as current magnification. Compact 3CCD Camera includes pixel-shift actuator, achieving sharp, ultra-high resolution images of up to 54 million pixels.
---
Original Press Release:

VHX-1000 Digital Microscope - High-Performance and Precision Measurement



The new VHX-1000 Digital Microscope from KEYENCE represents the fusion of high-performance digital microscopy with precision measurement. Quick, accurate measurement and observation for the most challenging applications are rapidly becoming standard requirements for an observation system. The integration of advanced technology into a powerful, all-in-one unit launches microscopy into the next generation. The new VHX-1000 Series features the world's first, real-time, 16-bit imaging resolution that makes subtle color differences visible, and optimizes areas that are too dark or too bright to see. The brightness range has been increased from the previous 256 levels to 65,536 levels. Likewise, the 3CCD color clarity has increased from 16 million to over 2.8 trillion colors.

Advanced sensor technology and microscopy/optical design and application expertise, has resulted in a revolutionary technology known as the DOUBLE'R automatic lens/zoom recognition system. The VHX recognizes, in real time, which lens is mounted to the camera, as well as the current magnification. Calibration adjustment is automatic with magnification changes.

The VHX-1000's extraordinarily large depth-of-field is at least 20 times greater than conventional microscopes. Combined with an Accurate DFD (Depth from Defocus) function, the new VHX generates fully-focused images of virtually any sample. The compact 3CCD Camera includes a pixel-shift actuator, achieving sharp, ultra-high resolution images of up to 54 million pixels. A flicker-free progressive scan method and new graphics engine allows texture expression and color reproduction similar to observation with the naked eye. A wide selection of high-resolution, leading-edge RZ zoom lenses, with up to 5000x magnification, provides superior image quality with excellent chromatic aberration correction.

Targets can be freely observed with the camera/lens unit used either handheld or mounted in a multi-angle viewing stand that enables angular observation without changing the target position. Through simple mouse operations, the VHX-1000 performs real-time, on-screen measurement of the distance, radius, angle and area of the target. For larger targets that need to be observed or measured, the unit has the added capability of real-time stitching of 2D and 3D images up to 10,000 X 10,000 pixels thereby increasing the viewing area up to 50 times.

For VHX-1000 Digital Microscope specifications and applications, please go to: http://www.keyence.com/PRVH10

For further product information, contact Phil Melore, Engineering Manager, Keyence Corporation of America, 50 Tice Boulevard, Woodcliff Lake, NJ 07677. Tel: 888-539-3623- ext 70703, Fax: 201-930-1883 Email: KeyencePR@keyence.com

More from Test & Measurement