Digital Low Resistance Ohmmeters from Megger Test Resistance Up to 10 A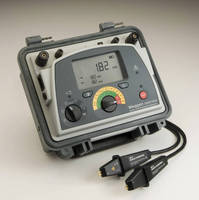 Used in the utilities, telecom, railroad, aviation, manufacturing and process control industries



Norristown, Pa. - Megger, one of the world's leading manufacturers and suppliers of test equipment and measuring instruments for electrical power applications, offers three digital low resistance ohmmeters that can test resistance up to 10 A. The DLRO10, DLRO10X and DLRO10HD are ideal for use in the utilities, telecom, railroad, aviation, manufacturing and process control industries.



The DLRO10 and DLRO10X are fully automatic and feature multiple operating modes including normal, auto, continuous and high power.  The DLRO10X also features unidirectional mode.  Each can measure resistance from 0.1 micro-ohm to 2,000 ohm on one of seven ranges. 



These two ohmmeters use a four-terminal resistance method that shows the true resistance of the item under test (IUT).  Each device automatically applies forward and reverse currents to the IUT, cancelling out any standing voltages, as well as checks for undue noise during measurement to reduce the possibility of recording an incorrect result.



Both units are protected to 600 V and automatically detect continuity in potential and current circuits, preventing erroneously high readings to be taken due to high resistance contact.



Ideal for use in the field or laboratory, both the DLRO10 and DLRO10X are built strong, yet lightweight.  Each unit can be worn around the neck and used in places where space is limited.  The DLRO10 features a bright LED display, while the DLRO10X features an LCD.  Both displays are easily visible under all lighting conditions, helping to reduce human error.



Megger's rugged DLRO10HD is easy to use and provides accurate results.  This versatile ohmmeter features high compliance as well as user-selectable high or low power ranges.  The high power range, measuring up to 250 micro-ohm at 10 A or 2.5 ohm at 1 A, is ideal for exposing a weakness or charging inductive loads.  The unit's low power range is power limited to 250 mW for applications where heating the item under test should be avoided.



Ideal for applications like checking the integrity of welded joints and verifying resistance in large motors and generators, this low resistance ohmmeter features 0.1 micro ohm resolution, 0.2% basic accuracy and a dedicated mode for use with inductive loads.



The DLRO10 HD offers five test modes including normal, automatic, automatic unidirectional, continuous and inductive.



The DLRO10HD is built into a rugged case that provides a protection rating of IP65 when closed and a rating of IP54 when in use and battery-operated.  The unit's rotary switch controls are easy to operate and the unit's large backlit LCD screen can be easily read from several feet away.



All of the DLRO10 models are in compliance with IEC 61010 and rated CATIII, 300 V when used with optional terminal insulating test leads.



For more information contact Peg Houck at peg.houck@megger.com or 610-676-8536.



Subscribe to Megger's RSS feed: http://www.simongroup.com/PressRoom/feeds/MEG.xml

Become a fan of Megger: https://www.facebook.com/meggerus



UPCOMING TRADESHOWS:  Windpower 2013, May 5-8, Chicago IL



Reader Service Inquiries: Peg Houck; Megger; 2621 Van Buren Avenue, Norristown, Pa. 19403; peg.houck@megger.com; 610-676-8536.



ABOUT MEGGER:

Megger is one of the world's leading manufacturers and suppliers of test and measurement equipment used within the electric power, building wiring and telecommunication industries.  With research, engineering and manufacturing facilities in the USA, UK, Sweden and Germany, combined with sales and technical support in most countries, Megger is uniquely placed to meet the needs of its customers worldwide.





More from Machinery & Machining Tools