Digital Force Gages can be used as force sensor.
Press Release Summary: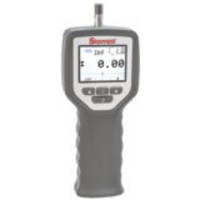 Digital Force Gages are offered in DFG and DFC series models with measurement accuracy of 0.2% full scale and 0.1% full scale. DFG series gages can store up to 50 test results in local memory. DFC series gage allows configuration of parameters such as limits, distance limits, break limits, crosshead travel direction and crosshead speed. Unit offers 10,000:1 display resolution and provides Bluetooth®, USB and RS-232 communications plus digital I/O interfaces.
---
Original Press Release:
Starrett Launches Line of Innovative Force Measurement Solutions
New L1 Force Line Enables Fast, Versatile, Easy-to-Use Testing For a Wide Range of Basic Production and Inspection.
The L.S. Starrett Company (www.starrett.com) has introduced a comprehensive line of innovative, entry level computer-based force testing solutions for applications ranging from load limit and distance testing to break limit, time average, cyclic count and duration testing, constant hold and more. Optimized for production and quality control testing, the versatile, innovative architecture of the L1 system is designed for reliable, fast, repeatable and easy operation. To view a video and request a brochure go to http://www.starrett.com/force.
The Starrett L1 line of force solutions consists of systems for Computer Controlled Force Measurement, Digital Force Gages, Starrett FMM Digital Force Tester Motorized Test Stands, Manual Test Stands and Load Cell Sensors. "We are excited to offer the most advanced, innovative and easy-to-use line of testing solutions available," said Mr. Emerson Leme, Head of Metrology Equipment Division at Starrett. "Users across many industries and applications will be impressed with the features, flexibility and modern design of the L1 force measurement platform, which is unprecedented in the industry."
Starrett L1 systems are easy-to-use, computer-controlled testing systems designed for high-volume, in-situ production testing. They are easy to setup, operate and maintain. Six models are available in standard and extended travels with testing capacities of 110 lbf, 330 lbf and 550 lbf. All L1 Systems feature a small footprint and are ideal for lean manufacturing applications. Simple, fill-in-the-blank templates let users create, perform, measure and analyze their test in seconds and perform limit testing, break testing, constant hold testing, cycle testing and more. Touch screen control simplifies operation and the high resolution display shows results in tabular and graphical formats. Tolerances can be applied for immediate pass/fail indication. Raw data and results can be exported to Excel for reporting and statistical analysis. Load measurement accuracy is better than 0.1% while distance position accuracy is better than 20 microns.
Digital Force Gages
Designed for versatility and ideal for basic tensile and compression testing, the Starrett Series DFC and DFG digital force gages can be used as a fast, convenient, affordable handheld testing solution for basic applications, or via the DFC gage, as a force sensor and controller when used with the FMM Series of motorized stands or the MTL and MTH manual stands.
Digital Motorized Test Stands
Starrett innovation is exemplified in the new DFC Series force gage design. The DFC gage can be used as a traditional handheld instrument with a measurement accuracy of better than 0.1%. Or, the DFC can be used as a controller on the column of Starrett's new FMM Series digital test stands. As a controller, the DFC serves as the user interface where users can setup load limit testing, distance limit testing and break testing. The DFC controls the FMM tester's speed, travel distance and direction. The DFC displays both force and distance results and features Bluetooth®, USB and RS-232 for interfacing to external devices including computers, printers, networks and more. The DFC Series is available in eight load capacities from 2lbf to 550lbf. All models have a measurement resolution of 10,000:1.
Manual Testers
Three new manual testers are also available in the Starrett L1 Line: MTL-110 (110lbf), MTL-330 (330lbf) and the MTH-550 (550lbf). These testers are ideal for applications where occasional testing is performed or where an economical solution is preferred. Combined with a DFC or DFG force gage, the user has an affordable solution that delivers accurate results for tensile or compressive testing. Starrett manual testers can be used vertically or horizontally. Options include a digital scale for precise distance/height measurements.
Load Cell Sensors
Starrett BLC load cell sensors are full-bridge, temperature compensated strain gage instruments designed and optimized for basic force testing applications. These S-Beam sensors feature high axial stiffness and minimal deflection at full capacity, which leads to improved measurement accuracy.
When more sophisticated and complex testing is required, Starrett also offers a range solutions via the L2, S2, L2 Plus and L3 Systems. The Starrett L1 Force Measurement Line is manufactured in the U.S.A. and is available to order now in several configurations including FMM Series digital force testers in three standard travel and three extended travel versions, 14 digital force gages including eight DFC advanced force controllers and six DFG basic force controllers, eight load cell sensors in the Series BLC and three manually operated force testers including two models in the Series MTL and one model in the Series MTH.
About The L.S. Starrett Company
Founded in 1880 and headquartered in Athol, MA U.S.A., The L.S. Starrett Company (www.starrett.com) is a leading global manufacturer of precision measuring tools and gages, optical comparators and vision systems and force and hardness testing solutions. Starrett also manufactures laser measurement systems, custom engineered granite solutions, custom gaging, band saw blades, power tool accessory saw blades, workshop tools and jobsite tools. The Starrett brand is recognized throughout the world for exceptional quality and precision. Skilled personnel, superior products, manufacturing expertise, innovation and excellent service and support have earned Starrett its reputation as the "World's Greatest Toolmakers". Starrett has over 1,600 employees worldwide and annual sales exceeding $200 million. The company has six manufacturing locations in the U.S.A., including facilities in Massachusetts, North Carolina, Georgia, Ohio, Minnesota and California. Starrett also has three international manufacturing facilities. Plants are located in Brazil, Scotland and China, in addition to distribution centers and offices located worldwide. The L.S. Starrett Company is publicly traded on the NYSE, symbol SCX.
For more information on the Starrett L1 Force Line go to http://www.starrett.com/force or contact The L.S. Starrett Company, 121 Crescent Street, Athol, MA 01331 U.S.A. Telephone: (978) 249-3551, Fax: (978) 249-8495, email: general@starrett.com, internet: www.starrett.com
More from Fluid & Gas Flow Equipment