Die Attach Solder Paste targets screen print operations.
Press Release Summary: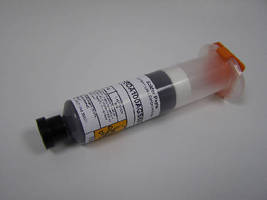 Formulated for printing processes, Multicore DA101 can not only handle reflow with high-lead alloys, but with lead-free based alloys as well. Product withstands temperatures of 300-330°C for high-lead reflow profiles and tolerates lead-free temperatures from 240-270°C. Delivering wetting ability to variety of surfaces, adaptable paste exhibits less than 5% void instances on average. Product's flux residue can be cleaned with off-the-shelf cleaning chemistries.
---
Original Press Release:

Henkel Extends Die Attach Solder Paste Product Line, Adds Printable Formula to Popular Portfolio



Broadening its well-known Multicore die attach solder portfolio, which already includes Multicore DA100 solder paste for high-lead and lead-free applications, Henkel today announced the launch of Multicore DA101. This newest formulation delivers many of the well-known benefits of Multicore DA100, but has been designed for screen print operations, thus offering flexibility for varying process requirements.

Both Multicore DA100 and Multicore DA101 provide the thermal management necessary for today's smaller outline, higher functioning semiconductor power devices, while also delivering the processability and versatility associated with solder paste materials. These products offer robust options for application-specific thermal requirements and overcome many of the issues historically associated with alternative products such as silver-based die attach adhesives and solder wire, neither of which is ideal for modern semiconductor power device production.

Multicore DA100 incorporates a no clean, ROLO flux system that can be used for high-lead applications and uniquely offers capability for lead-free processes as well. Using specific high temperature Pb-free alloys to offer the same thermal control necessary for today's rectifiers, power transistors, amplifiers, and many other consumer and automotive components, dispensable Multicore DA100 effectively complies with the environmental goal of lead elimination in power packages by 2013, as stipulated by ROHS legislation. Furthermore, packaging specialists that wish to use high-lead solders today, can easily move to lead-free solders tomorrow, while utilizing the same flux system offered through Multicore® DA100(TM). This ability to employ a consistent flux system is extremely beneficial to customers, as it minimizes the impact of flux reliability evaluation programs for such critical elements as cleanability, wire bonding and molding, among others.

Formulated for printing processes, Multicore DA101 is a flux system that can not only handle reflow with high-lead alloys, but with lead-free based alloys as well. The robust nature of the flux formula provides customers the flexibility to alter alloys based on process requirements. With the various alloy ranges, DA101 can withstand temperatures of 300°C to 330°C for high-lead reflow profiles and tolerates lead-free temperatures between 240°C and 270°C.

And, while Multicore DA100 and Multicore DA101 address different application needs, both products effectively replace older-generation power device die attach materials. Mark Currie, Henkel's Global Product Manager for Semiconductor Soldering, explains, "The industry's broad movement toward smaller outline devices and the resulting need for improved thermal transfer capabilities have rendered materials such as silver-filled adhesives and solder wire relatively ineffective. Today's power packages must have tremendous heat dissipation ability and precise deposition control -- the only materials that can do this efficiently and effectively are die attach solders."

Other advantages of Multicore DA100 and Multicore DA101 are their wetting adaptability and void reduction capabilities. While a number of current leadframe finishes are copper, alternative metallizations are emerging and, therefore, wetting adaptability to copper as well as NiPdAu and Ag finishes, among others, is essential. Both Multicore die attach solder pastes are adaptable materials that deliver excellent wetting ability to a variety of surfaces.

Voiding is also a condition which can have severe adverse effects. Optimized electrical and thermal conductivity, which impact overall device reliability, is highly dependent on void instances. While the packaging industry has generally accepted void percentages that range from 10% to 20%, Henkel believes that fewer voids mean stronger interconnects, improved thermal conductivity and, therefore, has engineered its Multicore die attach solder portfolio to exhibit less that 5% void instances on average. Additionally, the flux residues of Multicore DA100 and Multicore DA101 are exceptionally easy to clean with standard off-the-shelf cleaning chemistries, thus adding to the products' ease of use and process adaptability advantages.

"Henkel has designed a portfolio of solder die attach pastes that deliver the process flexibility, thermal performance, high reliability and user-friendliness that modern power device manufacturers demand," concludes Currie. "The smaller/faster/hotter paradigm continues - particularly for power packages - and these Multicore solder die attach materials can take the heat."

For more information on Henkel's Multicore die attach solder product line, log onto www.henkel.com/electronics or call the company's headquarters at 949-789-2500.

Except as otherwise noted, all marks used herewith are trademarks and/or registered trademarks of Henkel and/or its affiliates in the US and elsewhere.

About Henkel

Henkel has been committed to making people's lives easier, better and more beautiful for more than 130 years. A Fortune Global 500 and Germany's most admired company according to a recent Fortune survey, Henkel offers strong brands and technologies in three areas of competence: Home Care, Personal Care and Adhesive Technologies. Each day, more than 52,000 employees in 125 countries are dedicated to fulfilling Henkel's claim "A Brand like a Friend." In fiscal 2008, Henkel generated sales of 14,131 million euros and adjusted operating profit of 1,460 million euros.

Contact

Henkel Corporation

Doug Dixon

Phone: 949-789-2500

Fax: 949-785-2595

doug.dixon@us.henkel.com

www.henkel.com/electronics

More from Materials