Diaphragm Pumps are available in single or dual head designs.
Press Release Summary: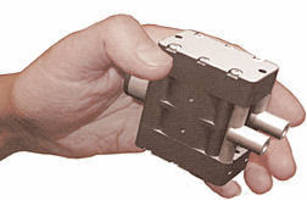 Designed for pressure or vacuum applications with low current requirements, Boxer 5100 and 5200 are intended for use with compatible liquids and gases, chemical dosing, sampling gases or liquids, or other applications in environmental, medical, or chemical processing. Dual head pumps can be configured for serial or parallel operation with combined flow to 10 Lpm (gas) or to 900 mLpm liquids. Self-priming pumps are available with clip mounting and choice of DC motors.
---
Original Press Release:

New High Performance Diaphragm Pumps Available in Single or Dual Pump Head Configurations



Boxer 5100 & 5200 diaphragm pumps are ideal for pressure or vacuum applications where low current and reliability are the prime requirements. These pumps are designed for use with compatible liquids and gases in applications like chemical dosing and gas or liquid sampling in environmental, medical or chemical processing.

Hudson, MA - Clark Solutions announces the introduction of its new DC motor driven Boxer 5100 & 5200 diaphragm pumps. They are offered in single or dual pump head designs. The dual head designs can be configured for serial or parallel operation with combined flow to 10 l/min (gas) or to 900 ml/min liquids. Ideal for pressure or vacuum applications where low current and reliability are the prime requirements, Boxer 5100 & 5200 diaphragm pumps are designed for use with compatible liquids and gases, chemical dosing, sampling gases or liquids, or other applications in environmental, medical or chemical processing. Supplied with easy clip mounting, Boxer 5100 & 5200 diaphragm pumps are available with a choice of DC motors, are self-priming, and provide maintenance-free operation.

Clark Solutions has a fifty-year history of providing unique solutions to the movement, measurement, control, and monitoring of pressure, flow, and level in liquids and gases. Located in Hudson, Massachusetts, the company offers a wide range of pumps for liquids, gases, and air including diaphragm pumps, piston pumps, rotary vane pumps, gear pumps, peristaltic pumps, impeller pumps, centrifugal pumps, and bellows pumps. Clark Solutions also provides inert isolation valves, solenoid operated valves, valve actuators, pinch valves, manifold valves, ball valves, globe valves, butterfly valves, needle valves, and miniature and subminiature valves. Our instrumentation includes devices to record, monitor, and control flow, velocity, pressure, temperature, humidity, level, gas concentration, and other properties.

For more information contact Clark Solutions, 10 Brent Drive, Hudson, MA 01749, Tel. 978-568-3400, Fax. 978-568-0060, or visit our web site at www.clarksol.com.

Web Page: www.clarksol.com/html/Boxer5100_5200Pump.cfm



More from Construction Equipment and Supplies