Diaphragm Pump handles explosive and volatile liquids.
Press Release Summary: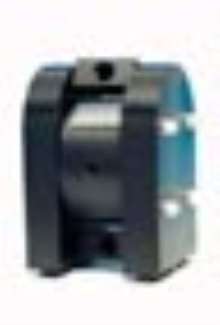 Diaphragm Pump satisfies EU directive 94/9/EC, ATEX 100a and is operated by compressed air. Made from conductive plastic material or metal, pump has type designation TX and can function as direct running, self-priming, or submerged in liquid. Applications include transport of solvents, alcohols, and chemicals that can form explosive gas compounds.
---
Original Press Release:
Diaphragm Pumps for Explosive Environments

Swedish pump manufacturer, Tapflo AB, is launching a range of diaphragm pumps designed for environments in which there is a risk of explosion. The pumps satisfy new EU directive 94/9/EC (ATEX 100a) which is now also mandatory for non-electrical equipment. The diaphragm pumps are operated by compressed air and are produced from conductive plastic material or metal. By using compressed air instead of electricity, the potential to be a source of ignition is eliminated. The certified pumps have type designation TX.

The new range of air-operated diaphragm pumps from Tapflo are produced from conductive plastic material or metal. The pumps are used for example for the transport of solvents, alcohols and chemicals which can form explosive gas compounds. The diaphragm pumps can handle most types of liquids, from volatile liquids such as different sorts of fuel to viscous liquids such as glue and paint. The pumps can function by direct running which is recommended in the case of viscous liquids or self-priming or submerged in the liquid.

EU directive 94/9/EC (ATEX 100a)

The new EU directive means that all equipment covered by the new directive must be updated with ATEX-certified equipment no later than 1 July 2006. Workplaces brought into operation on 30 June 2003 or later must be equipped with ATEX-certified equipment from start of operation.

"We have put a lot of effort into developing this range of pumps which meet the applicable ATEX requirements," says Börje Johansson, MD of Tapflo AB. "We can see in this area major and important potential for sales of our diaphragm pumps in harsh working environments."

The diaphragm pumps are compact and easy to position. The design and choice of material make them resistant to knocks and thus suitable for all types of environment, including environments exposed to external stresses. The choice of material such as polyethylene (PE) gives the pumps very good resistance to impact and chemical-resistance while the pumps made from polytetrafluoroethylene (PTFE) have high heat-resistance and excellent chemical-resistance. The capacity of the pumps is up to 425 litres a minute.

To minimise the risks of a shutdown, the pumps are made from very few components. They are easy to remove for servicing and part replacement.

Tapflo's TX range of diaphragm pumps are approved for use in EX zones 1 and 2. All pumps must be earthed before starting operation.

You can order high-resolution pictures of Magnus Deutgen from magnus.deutgen@informedia.se

For further information, contact:

TAPFLO (UK) LTD

Unit B, The Apex Centre

Church Lane

Colden Common

HANTS SO21 1TW

Tel +44 1962717131

Fax +44 1962717130

E-mail mick@tapflopumps.co.uk

www.tapflopumps.co.uk

Facts about Tapflo AB

TAPFLO develops and manufactures air-operated pumps for industrial applications. The company was founded in 1985. Over the years, the company has supplied pumps to industry in more than 30 countries around the world.

At present, the company's product range comprises around 20 different models to meet all needs. The pumps have capacities ranging from 0 to 425 litres a minute and maximum 80 metres' pressure altitude.

TAPFLO is represented in more than 35 countries. The company is quality-certified to ISO 9001:2000.
More from Non-Industrial Products