Determining the Phosphorus Content and Thickness of Electroless Nickel Coatings Using XRF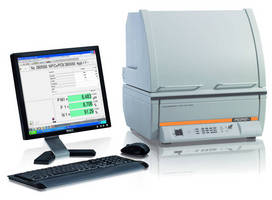 Fischer Technology is pleased to announce the capability of non-destructively measuring simultaneously the phosphorous content and thickness in electroless nickel (NiP) coatings using X-ray Fluorescence Instrumentation (XRF). For the first time this capability is realized for measurements in air (vacuum free), regardless of the underlying base material, AL, Fe, Cu or PCB. Fischer's high performance XRF hardware combined with user- friendly advanced fundamental parameter software allows for fast and accurate results of both coating thickness and phosphorous content at the same time with minimal sample preparation.



The phosphorus content of electroless nickel coatings is critical in determining the corrosion and wear resistance, hardness and solderability.



Whether you are a supplier of plating chemicals, a plating manufacturer or an end user of NiP plated components, the FISCHERSCOPE® X-RAY XDV-SDD will meet your measurement requirements. A full range of certified and traceable standards are also available from Fischer.



For additional information or to learn more about Fischer Technology's line of X-ray Fluorescence instrumentation visit www.fischer-technology.com or call 860-683-0781.



Fischer Technology is based in Windsor, CT with sales offices across North America including San Mateo, CA, Buffalo, NY, Chicago, IL, Dallas, TX and Querétaro, Mexico.

More from Laboratory and Research Supplies and Equipment