Desktop/Wallmount Chassis suit harsh industrial environments.
Press Release Summary: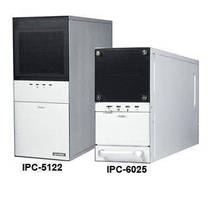 Adopting 1U 270 W power supply, IPC-6025 supports 5-slot PICMG 1.3/1.0 full-size passive backplane and up to Intel Quad Core Xeon CPU, and features optional rackmount carrier for Quad-system solution. MicroATX Motherboard chassis IPC-5122 supports up to LGA775 Intel® Core(TM) 2 Quad processor with suggested CPU cooler, up to 4 expansion slots, and single PS/2 300 or 400 W power supply. Compact and rugged chassis feature LED indicators and alarm notification for system fault detection.
---
Original Press Release:

Advantech Stylish New ID Design for IPC-6025 and 5122 Chassis



Irvine, CA - Advantech, a leading global ePlatform service provider, is pleased to introduce a series of stylish, compact, yet smart and rugged desktop/wallmount chassis designed for full-sized Single Board Computers (SBC) and MicroATX motherboards - IPC-6025 for SBCs & MicroATX chassis IPC-5122. Featuring a brand new Industrial Design (ID), this series of desktop/wallmount chassis is designed to perform reliably in any application and in harsh environments - not just pure industrial environments.

Smart New Industrial Design
IPC-6025 & IPC-5122 come with a newer fresher look - on top of the original rugged-style. Their sleek silver finishes are suited to more than just industrial environments, such as the back offices of a bank or chain store. Tough black plastic and other materials are also integrated into IPC-6025 and IPC-5122, while the main structure retains a heavy-duty steel construction to maintain ruggedness. Furthermore, due to the rising demand for more efficient use of space, the market for compact IPCs is growing, and the layout within each chassis is highly optimized to minimize overall size and provide better space utilization.

Environmental Protection
With an increasing variety of applications and end user types, good practical design features are important, and these are carefully implemented into IPC-6025 and IPC-5122. In most application environments dust is a common element, so the front door designs on IPC-6025 and IPC-5122 provide protection from dust for the front I/O USB ports, CD ROM and HDD. Also, a washable easy-to-maintain filter between the system fan and front grill allows for easy cleaning and maintenance, and IPC-6025 has a convenient handle designed on the front to make it easy to remove the chassis from the application environment.

Smart LED Alarm System
IPC-5122 and IPC-6025 also come with an intelligent monitoring system. With this system, users can monitor system power, CPU cooler fan status, system temperature and hard disk activity status. The system will sound an alarm if it detects abnormal activities.

Special Applications
IPC-6025 5-slot SBC chassis can work as a wallmount or desktop chassis and is suitable for applications which require a standalone system. And, with Advantech's specially designed rack carrier, IPC-6025 can work as a quad-system. Applications requiring quad-systems include AOI systems which need multiple processing for different functions and flexibility. With Advantech's rack carrier, IPC-6025 offers an excellent and economic solution to this kind of application.

Both Advantech IPC-6025 & IPC-5122 chassis provide a more stylish, compact and modern looking case while retaining their rugged industrial features; they make ideal solutions for a wider range of applications in more than just industrial environments. Please contact your local Advantech representatives for more information.

The Highlights for the 5-slot Desktop/Wallmount Chassis IPC-6025
o An ultra compact desktop chassis with scalability to a 5U quad-system rackmount chassis
o LED indicators and alarm notification for system fault detection, including power, HDD, temperature and fan
o Shock-resistant disk drive bay to hold two 3.5" disk drives (one external and two internal)
o Supports 5-slot PICMG 1.3/1.0 full-size passive backplane
o Supports up to Intel Quad Core Xeon CPU
o Adopts 1U 270W power supply
o Optional one rackmount carrier for Quad-system solution

The Highlights for the MicroATX Motherboard Chassis IPC-5122
o Streamlined in-chassis airflow design supporting up to LGA775 Intel® Core(TM) 2 Quad processor with suggested CPU cooler
o Supports up to four expansion slots
o Shock-proof and anti-vibration drive bay design for industrial applications
o Supports single PS/2 300 W / 400 W power supply
o LED indicators for system default detection
o Easy-to-maintain system fan and reusable air filter

About Advantech - Founded in 1983, Advantech delivers visionary and trustworthy industrial computing solutions that empower businesses. We cooperate closely with solution partners to provide complete solutions for a wide array of applications in diverse industries, offering products and solutions in three business categories: Embedded ePlatform, eServices & Applied Computing, and Industrial Automation groups. With more than 3,400 dedicated employees, Advantech operates an extensive support, sales and marketing network in 18 countries and 39 major cities to deliver fast time-to-market services to our worldwide customers. (Corporate Website: www.advantech.com).

Advantech is a Premier Member of the Intel® Embedded and Communications Alliance, a community of embedded and communications developers and solution providers.

More from Chemicals & Gases