Dematic to Highlight Robotic Piece Picking at Promat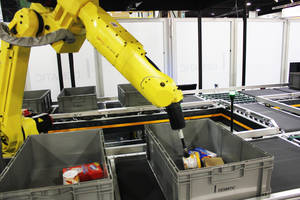 Powered by Performance Optimizing Software
GRAND RAPIDS, MICHIGAN – April 3, 2017– Dematic, a leading global supplier of integrated automated technology, software and services to optimize the supply chain, will feature new order fulfillment solutions at ProMat 2017, April 3–6 at McCormick Place in Chicago. The company plans to highlight dynamic order fulfillment solutions that enable companies to respond to the ever growing demands of today's consumer. The integrated automation and software solution exhibit will showcase low to mid to highly complex technology options for all size businesses. Highlights include:
Dematic iQ Warehouse Execution System: This scalable software platform is designed to control and synchronize workflows for production and distribution operations. Dematic iQ allows users to dynamically manage orders, inventory, labor and material handling automation in real time.
Robotic Piece Picking: A robotic piece picking demonstration will feature "pick from tote" and "put to order" functionality. Goods-to-robot solutions allow order fulfillment operations to automate the most labor-intensive and repetitive tasks.
Pick & Pack Workstation: The new goods-to-person workstation is engineered with integrated pick and pack functionality. This fulfillment sub-system supports worker productivity, ergonomic operation and order accuracy.
Lifecycle Support Tools: The Customer Service team will be on hand to introduce TechTalk and SiteView, two new software tools that connect users to Dematic for technical support.
Dematic Egemin and Dematic Retrotech are brands within the Dematic company structure that will also have booths at ProMat 2017. Dematic Egemin will present new configurations for Automated Guided Vehicle System applications. Dematic Retrotech will present solutions for the modernization and upgrade of existing automated material handling systems.
Visit Dematic at ProMat, booth #1203, April 3–6 at McCormick Place in Chicago. For more information, please visit dematic.com or contact Cheryl Falk at Cheryl.Falk@dematic.com or 262-860-6715.
About Dematic
Dematic is a leading global supplier of integrated automated technology, software and services to optimize the supply chain. Dematic employs over 6,000 skilled logistics professionals to serve its customers globally, with engineering centers and manufacturing facilities located across the globe. Dematic, Dematic Egemin and Dematic Retrotech, now integrated under the roof of KION Group, have implemented more than 6,000 integrated systems for a customer base that includes small, medium and large companies doing business in a variety of market sectors.
Headquartered in Grand Rapids, Michigan, Dematic is a member of KION Group, a global leader in industrial trucks, related services, and supply chain solutions. Across more than 100 countries worldwide, the KION Group designs, builds and supports logistics solutions that optimize material and information flow within factories, warehouses and distribution centers. The company is the largest manufacturer of industrial trucks in Europe, the second-largest producer of forklifts globally, and a leading provider of warehouse automation.
Press Contact:
Cheryl Falk
Sr. Vice President, Marketing Communications,
(262) 860-6715
More from Sensors, Monitors & Transducers