Dematic to Highlight Piece & Case Picking at Modex 2018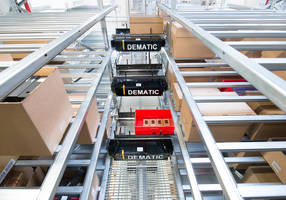 Solutions for Omni-Channel Distribution
GRAND RAPIDS, MICHIGAN – January 11, 2017 – Dematic, a supplier of intra-logistics systems for the factory, warehouse and distribution center, will feature order fulfillment solutions at MODEX 2018, April 9–12 in Atlanta, Georgia. The highlights include:
Dematic iQ Warehouse Execution System: This scalable software platform is designed to control and synchronize workflows for production and distribution operations. Dematic iQ allows users to dynamically manage orders, inventory, labor and material handling automation in real time.
Piece Pick Module: The high density automated case and tote buffer sub-system, Dematic Multishuttle, serves as the single inventory storage engine that supports four warehouse functions: receive/put-away, goods-to-person picking, robotic picking and automatic pick face replenishment.
Case Picking: Two case pick solutions bring process improvement to mixed case pallet building: The Dematic iGo Neo is a pick-to-pallet industrial truck with a "follow me" mode, which improves manual case picking productivity by 20%–25%. Dematic Multishuttle inventory storage engine supports manual case pick-to-pallet truck or conveyor by dispensing cases on flow rack to automatically replenish pick faces.
Lifecycle Support Tools: The Customer Service team will be on hand to introduce TechTalk and SiteView, two new software tools that connect users to Dematic for technical support.
Visit Dematic at MODEX 2018, booth #3047, April 9–12 in Atlanta, Georgia. For more information about Dematic, visit Dematic.com or contact Cheryl Falk at Cheryl.Falk@dematic.com or 262-860-6715.
About Dematic
Dematic is a leading supplier of integrated automated technology, software and services to optimize the supply chain. Dematic employs over 6,000 skilled logistics professionals to serve its customers globally, with engineering centers and manufacturing facilities located around the world. Dematic is now integrated under the roof of KION Group and has implemented more than 6,000 integrated systems for a customer base that includes small, medium and large companies doing business in a variety of market sectors.
Related