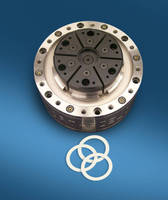 Island Park, NY — Northfield Precision Instrument Corporation is a leader in the design and manufacture of precision workholding chucks. Their specialty is developing custom solutions for difficult problems.



In this case, a customer who manufactures delicate ceramic rings needed a way to carefully hold the rings on the OD so they could grind the ID. The customer requested that no metal touch the parts. Northfield adapted their 6" Diaphragm Chuck with custom top tooling made from the most abrasion-resistant plastic available (without a filler). These items can be quickly changed for new ones should a future need arise.



Northfield Precision Instrument designs and manufactures the world's most accurate air chucks for any lathe, boring machine, grinder or VMC. Models include through-hole, high-speed and quick-change. Chucks are available in SAE or metric, in sizes from 3" (76mm) to 18" (457mm). Accuracies of 0.001" to 0.00001" (0.254m) are guaranteed. Custom workholding chucks and jaws are available and FREE engineering assistance is offered.



For more information, please contact Northfield Precision Instrument Corp. Call Toll Free 1-800-810-2482 • Fax (516) 431-1928 • Email: info@northfield.com.

More from Materials