Deep UV Bandpass Filters provide bandpasses as low as 122 nm.
Press Release Summary: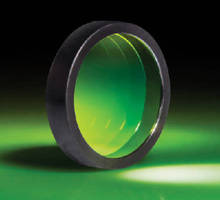 Manufactured from MgF2 and UV grade fused silica, Deep UV Bandpass Filters come in 12 models with center wavelengths of 122, 193, 248, and 308 nm in diameters of 12.5, 25, and 50 mm. Each filter is mounted in aluminum ring for identification and system integration, as well as to protect it from damage and surface abrasions. Offering surface quality of 20-10 with clear aperture of >85%, filters are suited for fluorescence microscopy, Raman spectroscopy, Excimer lasers, and biological filtering.
---
Original Press Release:

Deep UV Bandpass Filters Provide Bandpasses as Low as 122 nm



Filters include individualized transmittance profile



Barrington, N.J.  -  Edmund Optics® (EO), the premier provider of optical components, introduces new Deep UV Bandpass Filters. These versatile filters are ideal for applications in fluorescence microscopy, Raman spectroscopy, Excimer lasers and biological filtering.



Substrates include MgF2 and UV grade fused silica



Deep UV Bandpass Filter

Deep UV Bandpass Filters are available in a wide range of popular sizes and feature bandpasses as low as 122 nm. They are manufactured from high quality substrates including MgF2 and UV grade fused silica. To ensure maximum performance, each Deep UV Bandpass Filter is visually and optically inspected prior to shipment. Each filter is delivered with an individualized transmittance profile, which demonstrates the filter's performance characteristics. These precision bandpass filters offer a surface quality of 20-10 with a clear aperture of >85%.



Twelve models available at four center wavelengths



RoHS compliant Deep UV Bandpass Filters are offered in twelve models with center wavelengths of 122 nm, 193 nm, 248 nm, and 308 nm in diameters of 12.5 mm, 25 mm and 50 mm. Each bandpass filter is mounted in an aluminum ring for easy identification and system integration, as well as to protect it from damage and surface abrasions. Deep UV Bandpass Filters are in-stock and available for immediate delivery for fast turnaround and excellent value.



About EO:

Edmund Optics® (EO) is a leading producer of optics, imaging, and photonics technology for R&D, electronics, semiconductor, pharmaceutical, biomedical, and military markets around the globe. EO is the world's largest supplier of off-the-shelf optical components. Customers can purchase items by contacting EO at 1-800-363-1992, via the catalog, or via the website at www.edmundoptics.com



Company Contact:

Kirsten Bjork-Jones

Director Global Marketing Communications

Edmund Optics®, Inc.

101 East Gloucester Pike

Barrington, NJ 08007 U.S.A.

Phone: 1-800-363-1992

Fax: 1-856-573-6295

email: kbjork-jones@edmundoptics.com



European Contact:

Agnes Huebscher

Director European Marketing

Edmund Optics

Zur Giesserei 8

76227 Karlsruhe, Germany

Tel.:   +49 (0)721-62737-38

Fax:   +49 (0) 721 6273750

E-Mail:   AHuebscher@edmundoptics.de

More from Software