DE-STA-CO's Versatile Conveyor Systems to Debut at MD&M East 2007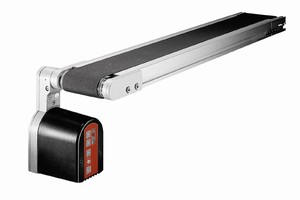 Auburn Hills, Michigan, April 16, 2007 - DE-STA-CO's new DCM Light Duty Conveyor series will be demonstrated along with a variety of workholding and automation products on in booth #3338 at MD&M East 2007. MD&M East will be held in New York City from June 12 - 14 at the Jacob K. Javits Convention Center.

With a compact design and integrated control, the light duty conveyor is ideal for applications such as part transfer to work cells. Offered with either end or center drives, the belt on the light duty series is driven by a regulated, brushless 24 V DC motor with variable speed and selectable direction.

Additionally, the light duty system's durable, switchable electric motor considerably reduces run-out of the belt when stopping. In spite of its compact size, the system can transport up to 44 lbs. of parts. With a maximum conveyor length of 16 feet, the system is offered in chassis widths ranging from 1.77 - 5.5 inches and capable of handling part widths up to 4.6 inches.

Also featured in the DE-STA-CO lineup will be the DPP series of parallel grippers. The integration of DIRECTCONNECT(TM) technology allows the grippers to be mounted easily to other modular automation products without the use of adaptor plates. Patented "Dual-V" roller bearings provide low-friction, high repeatability, excellent performance in holding delicate parts, and the implementation of longer gripper finger lengths.

Joining the DPP series in booth #3338 are the RPLC and RPMC Gripper series, which are designed for FDA, medical and cleanroom applications. Both parallel gripper series are suitable for class 10/100 cleanroom standards and use cleanroom grade lubricant for interior components. The external components on the gripper series are made from corrosion-resistant materials that maximize performance in environments containing exposure to de-ionized water. Additionally, the compact design of RPMC series makes it ideal for the handling of small parts.

Also on display at the DE-STA-CO booth will be the affordable DRF DIRECTCONNECT(TM) flange mount rotary actuators. The DRF series allows payload inertia to stop directly through an independent hard stop mounted in the turntable rather, than through the drive mechanism. Features include dual bearing flange support, magneto-resistive sensing, imperial and metric mounting, and adjustable hard stops.

DE-STA-CO's DLM DIRECTCONNECT mini ball rail slides offer a wide range of features ideal for automation applications. The units boast infinite stroke adjustability, multiple air port locations, and multi-position sensing, as well as precision hard stop and double bearing options.

The 2000 series of DE-STA-CO's horizontal handle hold-down action clamps offer an average of twice the holding capacity of legacy models in the same envelope. With maximum holding capacity ranging from 295 to 1,680 pounds, the clamps ensure applicability across a wide range of operational demands. Additionally, the unique patented design prevents spindle slippage and provides increased hand clearance in the open position, improving ergonomics and safety.

Visitors to booth #3338 will also see DE-STA-CO's Industrial End Effectors, which are an optimal solution for flexible modular automation. Designed to maximize productivity, the end effectors can be easily configured to meet a variety of material handling applications, providing the highest possible levels of flexibility. DE-STA-CO offers a wide range of industrial end effector systems, including the Industrial End Effector product line, SpiderGrip Geometric End Effectors System and BodyBuilder End Effectors System.

About DE-STA-CO
DE-STA-CO, a Dover Company, is a worldwide leader in the innovation, design, manufacture and support of clamping, gripping, transfer and robotic tooling solutions for workplace and automation needs. The company is committed to the Team DE-STA-CO philosophy, a progressive approach to doing business that focuses on providing consistent, standard-setting service and products to every customer, regardless of geographic location.

For more information on DE-STA-CO automation products, please call 1-888-DESTACO or e-mail custserv@destaco.com.

For more information on DE-STA-CO workholding products please call 1-888-DESTACO or e-mail cust.serv@destaco.com.

Please visit www.destaco.com for information on all DE-STA-CO products, or contact John Bubnikovich, Director of Marketing at 248.836.6700.

Photo Caption: DE-STA-CO's DCM Light Duty Conveyor system is the ideal solution for applications such as part transfer to work cells and will be featured in booth #3338 at MD&M East.


More from Architectural & Civil Engineering Products