DC to DC Power Supplies (Converters)
DC/DC Converters have synchronous rectifier design.
Press Release Summary: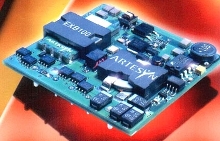 Half-brick EXB100 100 W modules, available with single outputs, include: 5 V model rated at 20 A; and 3.3 V and 1.8 V models rated at 30A. The 1.8 V model can be trimmed down to just 1.08 V, yet still deliver full 30 A rated output. Input voltages range from 36 to 75 Vdc, with 1500 Vdc isolation rating. Converters include remote on/off facility, and are protected against over-voltage, over-temperature and short-circuit conditions.
---
Original Press Release:

HALF-BRICK 100W DC/DC CONVERTER CAN GO AS LOW AS 1.08V


- flexible power source for latest low-voltage silicon designs
- single board open-frame module with a profile of just 0.39in (10mm)
- increased reliability lowers total system cost of ownership

Artesyn Technologies has launched a half-brick 100W DC/DC converter module that is ideal for powering products employing the latest low-voltage semiconductors. Available with single 5.0V, 3.3V or 1.8V outputs, the new EXB100 converter is a high efficiency synchronous rectifier design that is capable of delivering very high output currents without the need for a heatsink. The 5V model is rated at 20A, while the 3.3V and 1.8V models are rated at 30A. Each of these models features a voltage trim facility with an exceptionally wide range, enabling the output to be adjusted between 60% and 110% of its nominal value. This means that the 1.8V model, for example, can be trimmed down to just 1.08V, yet still deliver its full 30A rated output
at this voltage level.

The ability to accommodate a wide range of output voltages with a
single model provides users with significant advantages. System
designers can easily perform margin testing - which is becoming
increasingly important as operating voltages drop to around the 1V level - simply by varying the supply voltage. Furthermore,
applications with highly specific voltage requirements can now be
powered by standard off-the-shelf DC/DC converters, whereas they would previously have demanded expensive customised power sources.

Artesyn's EXB100 series converters are open-frame units intended for through-hole PCB mounting, with an industry-standard half-brick footprint of 2.4 x 2.28 inches (61 x 58mm). Based on a single board design, they are constructed entirely from surface-mount components - including planar magnetics - which helps keep the height down to just 0.39 inches (10mm). All EXB100 series converters accommodate a wide operational temperature range of -40sC to +90sC ambient, and are expressly designed as high reliability products, using very conservative component de-rating criteria. Their high conversion efficiency and consequent low internal power dissipation means that they can be used without heatsinks for many applications. The 3.3V model, for example, has an efficiency of 90.5%, which typically means
that with just lm/s of forced air cooling, it can deliver its full 30A output at ambient temperatures of up to 50sC.

EXB100 series converters are primarily intended for the networking, telecoms and wireless markets, where small size, lower output voltage with higher currents, low profile and high efficiency are all key demands. They feature a wide input voltage range of 36V to 75V DC, making them especially suitable for use in systems employing a 48V distributed power architecture. Typical applications include high-end routers and switches, optical networking products, transmission systems
and wireless base stations.

All three versions of the EXB100 offer a remote on/off facility, with the option of positive or negative logic inputs. The converters have no minimum load requirement, and are comprehensively protected against over-voltage, over-temperature and short-circuit conditions. A combination of non-latching clamping over-voltage protection and continuous current limit protection is employed to help maximize system uptime, by ensuring that the converter will continue to deliver power
even when in failure mode.

Artesyn's EXB100 series DC/DC converters have a 1500VDC isolation
rating and carry a full set of international safety approvals,
including TOV Product Service and UL/cUL1950. The converters are
designed to meet all relevant standards for use in telecommunications equipment, including ETS 300-019 for environmental protection, ETS 300-132-2 for maximum inrush current and supply voltage rise time, and ETS 300-386-1 for EMC issues.

With the addition of a small number of external filtering components, EXB100 series converters can meet the EN55022 level A and level B standards for conducted noise emissions.

Pricing for 1000-piece quantities is $83 US, and the standard lead time is stock to 8 weeks.

Contact notes for Editors

The Marketing Communications Manager for Artesyn Technologies' Power Group is Jackie Day, who is based in Youghal, Ireland. Jackie has worldwide responsibility for marketing communications, but if you or your magazine's readers would prefer a North American contact, this is Karen Scheldroup, who is based in Eden Prairie, Minnesota. Please ensure that any reader inquiries are directed to one of these two people.

Ms. Jackie Day
Artesyn Technologies
Springfield Industrial Estate
Youghal
Co. Cork
Ireland

Tel: +353 24 25572
Fax: +353 24 25522
Email: jackie.day@artesyn.com

Ms. Karen Scheldroup
Artesyn Technologies
7575 Market Place Drive
Eden Prairie
MN 55344
USA
Tel: 952 392 6538
Fax: 952 392 6677
Email: karen.scheldroup@artesyn.com

This press release was issued on behalf of Artesyn Technologies by Nick Leatherdale of Wordsun; please feel free to contact Nick on +44 (0)1258 840999 if you have any questions about its content.

Ref: AT179a - March 28, 2002

About Artesyn Technologies

Artesyn Technologies, Inc., headquartered in Boca Raton, Fla, is a leading provider of advanced power conversion equipment and real-time subsystems to the communications industry. With one of the broadest portfolios of power products available, Artesyn offers customers a wide range of high efficiency AC/DC power supplies, as well as advanced DC/DC and Point of Load converters for distributed power architectures. Artesyn's line of WAN interfaces, CPU boards, DSP solutions and protocol stacks are also at work in many of today's leading Teledatacom( networks. For more information about Artesyn Technologies and its products, please visit the company's web site at artesyn.com.

More from Architectural & Civil Engineering Products