Data Acquisition System monitors smart grid equipment.
Press Release Summary: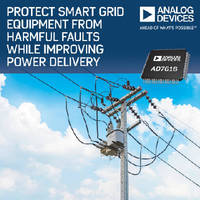 Supporting Class 0.2 measurement accuracy, AD7616 DAS protects smart grid equipment from harmful system faults and optimizes power delivery to residences and businesses. Device operates from single 5 V supply and integrates dual simultaneous sampling of 16 channels. IC can accommodate ±10 V, ±5 V, and ±2.5 V true bipolar input signals while sampling at throughput rates up to 1 MSPS/channel pair. On-chip filtering and 1 MΩ impedance eliminate need for driver op-amps and external bipolar supplies.
---
Original Press Release:

Data Acquisition System Protects Smart Grid Equipment from Harmful Faults While Improving Power Delivery



NORWOOD, Mass.-- Analog Devices, Inc. (ADI) today announced a data acquisition system (DAS) that enhances smart grid equipment monitoring in order to protect equipment from harmful system faults and improve power delivery to residences and businesses. As electricity demand grows and renewable energy generation is added, utility companies must increase the scope, granularity and accuracy of monitoring points across the distribution grid. Current data acquisition systems often require complex design work and expensive integration that can exceed the needs of the application. The new DAS supports Class 0.2 measurement accuracy and enables the development of faster, more sensitive and affordable fault detection equipment that helps protection relay operators minimize the high costs associated with repairing and replacing damaged components.



View the product page, download data sheet, order samples and evaluation boards: http://www.analog.com/AD7616

Read about the AD7616's application in power line monitoring: http://www.analog.com/media/en/news-marketing-collateral/product-highlight/AD7616-Product-Highlight.pdf

Learn about ADI's protective relaying (Power Line Monitoring): http://www.analog.com/en/applications/markets/energy/transmission-distribution/protective-relaying.html

Learn about ADI's precision converter product portfolio: http://www.analog.com/en/products/power-management/battery-management/battery-charger-ic.html

Connect with engineers and ADI product experts on EngineerZone®, an online technical support community: https://ez.analog.com/community/data_converters/precision_adcs



The AD7616 DAS simplifies designs and lowers system costs by reducing the need for multiple parts in high-channel count applications by integrating dual simultaneous sampling of 16 channels. The AD7616 operates from a single 5 V supply and can accommodate ±10 V, ±5 V, and ±2.5 V true bipolar input signals while sampling at throughput rates up to 1 MSPS per channel pair. Additionally, the device's input structure eliminates the need for additional external protection circuits or external signal conditioning that add cost. On-chip filtering and high input impedance (1M ohm) eliminate the need for driver op-amps and external bipolar supplies. High accuracy on-chip ADCs provide a 90 dB SNR, enabling Class 0.2 measurement accuracy compliance and producing more accurate, reliable, time coherent data. Higher SNR performance of 92 dB can be achieved by using the on-chip oversampling mode.



The AD7616 DAS is suitable for a range of distribution applications such as relay protection for low-voltage distribution and feeder terminal units. The new device is also ideal for multiphase motor control and industrial instrumentation applications.



Product Pricing and Availability









Product



ADC Resolution



ADC Channels



Samples Available



Full Production



Price Each Per 1,000



Packaging





AD7616



16-bit 



16 



Now



October 2016



$11.96






80-lead LQFP


package





    

About Analog Devices

Analog Devices (NASDAQ: ADI) designs and manufactures semiconductor products and solutions. We enable our customers to interpret the world around us by intelligently bridging the physical and digital worlds with unmatched technologies that sense, measure and connect.

Visit http://www.analog.com.



EngineerZone is a registered trademark of Analog Devices, Inc.



Follow ADI on Twitter at http://www.twitter.com/ADI_News



Analog Devices, Inc. Corporate Communications Department, Three Technology Way, Norwood, MA 02062



Contacts

Analog Devices, Inc.

Linda Kincaid, 781-937-2572

linda.kincaid@analog.com

More from Architectural & Civil Engineering Products