DAS Absorber and Antenna Holder mitigate PIM.
Press Release Summary: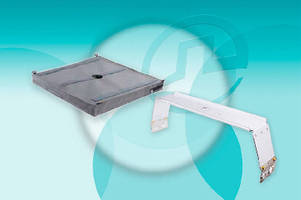 To optimize installation, PIMinator® Distributed Antenna Systems are available with DASACHOLDER above-ceiling antenna holder. Plastic holder does not interfere with aesthetics of building and does not induce passive intermodulation. Attaching to plastic holder or surrounding structures, DASACABSORBER helps mitigate effects of PIM sources by absorbing reflections on cellular radio frequencies in transmit and receive bands. Result is confirmed reduction of PIM energy by as much as 40 dB.
---
Original Press Release:

Pulse Electronics' PIMinator Accessories Zero-In on DAS Network PIM Reduction



DAS Absorber and Antenna Holder Mitigate PIM



San Diego, Calif. - Pulse Electronics Corporation introduces two unique and performance-enhancing installation options for its PIMinator® line of distributed antenna system (DAS) in-building ceiling-mount antennas. The DASACHOLDER is a sturdy, plastic, above-ceiling antenna holder that is easy to install, is hidden above the ceiling so it doesn't interfere with the aesthetics of the building, and does not induce passive intermodulation (PIM) in in-building installations. The DASACABSORBER attaches to the plastic holder or surrounding structures and helps mitigate the effects of PIM sources by absorbing reflections on cellular radio frequencies in the transmit and receive bands. The result is a confirmed reduction of PIM energy by as much as 40dB.



"Pulse's new DAS antenna mounting options are really quite revolutionary," explained Olivier Robin, general manager for Pulse Electronics Wireless Infrastructure business unit. "Pulse's antenna holder is a versatile, robust above-ceiling bracket that is constructed with a non-PIM-inducing material and design. There are other above ceiling brackets on the market, but Pulse's is the only one that provides the structural integrity demanded by carrier networks while not aggravating the harmful effects of PIM on network data throughput. Additionally, Pulse's absorber actually reduces PIM for a combination that gives the best performance available."



Pulse's PIMinator line of DAS antennas operates from 698 MHz through 5900 MHz while meeting global wireless carrier requirements. Pulse Electronics' extremely low PIM spec of -155 dBc at 2x20 watts (2x43dBm) ensures high data rates to support streaming video for mobile devices.



The DASACHOLDER is a resilient, reliable antenna support which mounts directly to the ceiling tile support rail structure of standard 2'x2' and 2'x4' ceiling tile construction using easy snap-in features. Antennas mounted above the ceiling tiles are held rigid by the holder and therefore are not easily disrupted or impacted by mild ceiling tile movement, unlike alternative attachment methods. The DASACHOLDER is ideally used with Pulse's SISO and MIMO DAS PIMinator antennas; however, the holder is suitable for use with antennas from many vendors in the industry.



The DASACABSORBER above-ceiling PIM reducer sits between the antennas and surrounding structures to help mitigate the effects of PIM sources. It can also minimize RF radiation above the antennas where signals can interfere with the floor above and reduce overall DAS performance. The PIM absorber is plenum-rated, non-flammable, and non-smoke.



You're invited to see the Pulse Electronics family of DAS antennas and to speak to our technical experts at the DAS Congress, May 16th-18th, 2016, at the Aria Resort and Casino, Las Vegas, Nevada.



The products meet the above-ceiling installation requirements of the NFPA (National Fire Protection Association). Samples are available immediately. Production lead time is 4-6 weeks. For more information see the DASACHOLDER datasheet at http://productfinder.pulseeng.com/product/DASACHOLDER and the DASACABSORBER datasheet at http://productfinder.pulseeng.com/product/DASACABSORBER, visit the website for DAS products at http://www.pulseelectronics.com/products/antennas/das_antenna_products, or contact the Pulse Electronics antenna team at antennas.us@pulseelectronics.com.



About Pulse Electronics

Pulse Electronics is a leading provider of electronic components that help customers build the next great product by providing the needed technical solutions. Pulse Electronics, including the Larsen brand of antennas, has a long operating history of innovation in antennas, magnetics and connectors, as well as the ability to ramp quickly into high-quality, high-volume production. The Company serves the wireless and wireline communications, power management, military/aerospace, and automotive industries. Pulse Electronics is a participating member of the IEEE, SFF, OIF, HDBaseT Alliance, CommNexus, NFC Forum, MoCA, and IWPC. Visit the Pulse Electronics website at www.pulseelectronics.com.



Copyright ©2016 Pulse Electronics Corporation. All rights reserved. All brand names and trademarks are properties of their respective holders.



Pulse Electronics

Paul Fadlovich

Director of Marketing

Pulse Electronics, Infrastructure Wireless Division

Phone: +1.360.859.5022

Email: pfadlovich@pulseelectronics.com

Related