DAQ/Sensor Monitoring Board includes flow control.
Press Release Summary: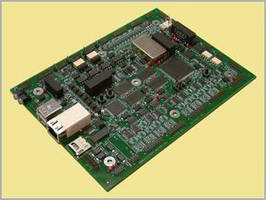 Operating from -40 to +85°C, CellMite ® ProD Model 4349 features 11 channels of 12-bit analog inputs that support 10,000 samples/sec. Digital data acquisition is also supported with 64-bits of simultaneously sampled digital inputs, 4-bits of isolated digital inputs, and 3 digital counter inputs that are also sampled at up to 10,000 samples/sec. For applications requiring on-board data storage, CellMite ProD features input voltage range of 19-36 Vdc, along with 3 kVdc isolation.
---
Original Press Release:

New ProD Model 4349 DAQ / Sensor Monitoring Board Designed for Ruggedized Applications, Now with Flow Control!



Cranston, Rhode Island, United States of America -- Electro Standards Laboratories, Cranston, RI, now offers CellMite ® ProD Model 4349 Data Acquisition and Sensor Monitoring board with flow control. Direct PC or network communication is supported by a 10/100 BaseT Ethernet data channel with user selectable event and monitor data packet size in order to minimize network congestion. Model 4349 is a great addition to ESL's line of CellMite® products.

Model 4349 features 11 channels of 12-bit analog inputs that can be sampled up to 10,000 samples/second. Digital data acquisition is also supported with 64-bits of simultaneously sampled digital inputs, 4-bits of isolated digital inputs, and 3 digital counter inputs that are also sampled at up to 10,000 samples/second. High sampling rates make the Model 4349 perfect for recording important sensor data from transient applications such as pulsed power systems.

The CellMite® ProD line is suitable for embedded applications that require high speed/high accuracy analog and digital data acquisition yet also designed for ruggedized applications, operating from -40°C to +85°C. The communication channels are optically isolated in order to minimize system ground loops. For applications requiring on-board data storage, the CellMite ProD features a wide input voltage range of 19VDC-36VDC, along with 3kVDC isolation.

For information on load cell indicators and digital signal conditioning products, contact Electro Standards Laboratories, 36 Western Industrial Drive, Cranston, RI 02921. Tel: 401-943-1164. Email: eslab@ElectroStandards.com. Web: www.ElectroStandards.com.

To view more about Model 4139, visit: http://www.electrostandards.com/ProductDetail/?productid=2121

Related