Universal / Constant Velocity Joints
Dana Blue-Coated Performance U-Joints feature Spicer Life Series® technology.
Press Release Summary: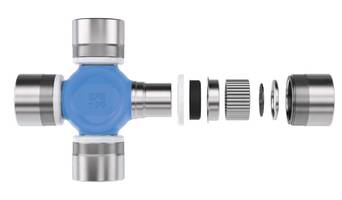 Dana Blue-Coated Performance U-Joints are available in 5-760XC, SPL30-7166XC, SPL30-1350XC, SPL55-1480XC and SPL70-1550XC sizes. Units are suitable for 4X4 vehicles, jeep wrangler and ford super duty applications. Products come with blue coating which offers resistance against rust and corrosion. U-joints offer 106,746 cycles of operations, multi-lip seal, thrust washers and bearing cups.
---
Original Press Release:
Dana Introduces Spicer® Blue-Coated Performance U-joints with SPL® Technology For Longer Service Life
Product Offers Ten Times More Service Life Than Competition
Dana Incorporated (NYSE: DAN) has introduced a new line of Spicer® u-joints incorporating the company's Spicer Life Series® (SPL®) technology, features that have been tested to deliver significantly more service life than competitive u-joints. The distinctive blue coating on the journal cross of the Spicer Blue-Coated Performance U-joints also has been shown to resist rust and corrosion in salt and mud testing.
Dana made the announcement at the Specialty Equipment Market Association (SEMA) Show, held here through Nov. 3 at the Las Vegas Convention Center.
"Spicer u-joints with SPL technology have consistently performed better than the competition. Our testing has shown them to last ten times longer than the nearest competitor," said Peter Cirulis, vice president of customer experience, strategy, and product planning for the Dana Aftermarket Group. "Now, with the blue coating, they also look better than the competition. They are the perfect complement to Spicer chromoly performance axle shafts."
In testing at the Dana engineering laboratories, Spicer 1310 Series u-joints with SPL technology were fatigued tested to more than one million cycles without failure. By comparison, the nearest competitive u-joint tested achieved an average of 106,746 cycles before failure.
The Spicer Blue-Coated Performance U-joints have been subjected to 1,000 hours of salt fog spray and mud testing to evaluate their corrosion resistance compared with non-coated u-joints. The Blue-Coated Performance U-joints exhibited less than 10 percent red rust.
Dana Blue-Coated Performance U-joints incorporate SPL features including:
Journal cross, engineered with a solid cold-formed body to ensure better wear and overall strength 
Bearing cups, heat-treated for strength and precision-ground and case-hardened for durability
Thrust washers, that eliminate metal-to-metal contact, prevent wear, and lower the overall operating temperature; Multi-lip seal, to keep grease in and contaminants out, and to attain maximum retention in a wider range of environments. The multi-lip seal on the SPL u-joint includes seal guard for optimal protection; and
U-joints that are lubed-for-life for maintenance-free operation.
Initially, Dana Blue-Coated Performance U-joints will be available in five common sizes – 5-760XC, SPL30-7166XC, SPL30-1350XC, SPL55-1480XC, and SPL70-1550XC – for some of the most popular 4X4 vehicles, including Jeep Wrangler and Ford Super Duty. Additional applications may be added in the future.
Dana will highlight a number of new products at its exhibit at SEMA, Booth No. 36193, located in the South Hall Upper at the Las Vegas Convention Center.
For more information on the Spicer Blue-Coated Performance U-joints, go to DanaAftermarket.com.
About Dana in the Aftermarket
Powered by recognized brands such as Dana®, Spicer®, Victor Reinz®, Glaser®, GWB®, Thompson®, Tru-Cool®, SVL®, Magnum®, and Transejes™, Dana delivers a broad range of aftermarket solutions – including genuine, all makes, and value lines – servicing passenger, commercial, and off-highway vehicles across the globe. Leveraged by a global network of 13 distribution centers, Dana's dedicated aftermarket team provides technical service, customer support, high fill rates, and on-time delivery to customers around the globe. For product information visit Spicerparts.com. For E-catalog and parts location, visit DanaAftermarket.com. To speak with a Dana customer service representative call 1-800-621-8084.
About Dana Incorporated
Dana is a world leader in highly engineered solutions for improving the efficiency, performance, and sustainability of powered vehicles and machinery. Dana supports the passenger vehicle, commercial truck, and off-highway markets, as well as industrial and stationary equipment applications. Founded in 1904, Dana employs nearly 29,000 people in 33 countries on six continents who are committed to delivering long-term value to customers. The company reported sales of more than $5.8 billion in 2016. Based in Maumee, Ohio, the company's operations were selected as a 2017 Top Workplace in Northwest Ohio and Southeast Michigan by The (Toledo) Blade. For more information, please visit dana.com.
More from Software