Latest New Product News from
Dana Corp.
Mechanical Components and Assemblies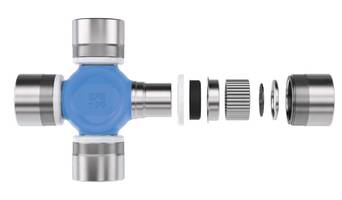 Nov 03, 2017
Dana Blue-Coated Performance U-Joints are available in 5-760XC, SPL30-7166XC, SPL30-1350XC, SPL55-1480XC and SPL70-1550XC sizes. Units are suitable for 4X4 vehicles, jeep wrangler and ford super duty applications. Products come with blue coating which offers resistance against rust and corrosion. U-joints offer 106,746 cycles of operations, multi-lip seal, thrust washers and bearing cups.
Read More
Mechanical Components and Assemblies
Mar 02, 2017
Used with highway and heavy-haul vehicles with engine downspeeding configurations, SPL® 350 Lite Driveshaft is 35 lb lighter than existing products. Enhancing vehicle dynamics and easier maintenance, Driveshaft offers 2.26:1 axle ratios for 6x4 tandem axle configurations. Product is available in standard re-lube designs and offers reliable torque-management.
Read More