Damped Load Cell collates up to 800 samples per sec.
Press Release Summary: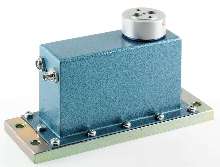 Digital 240 calculates average weights derived from multiple samples taken over short period of time. Fully calibrated unit is adjustable and can be altered to sample at rates to suit different applications. Viscous damping technology restrain movement of internal components, making it tolerant of external vibrations. Output can employ ASCII command structure, enabling communication between load cells, control systems, and systems operators.
---
Original Press Release:

New Vishay Transducers Damped, Digital Load Cell Collates Up to 800 Samples per Second


MALVERN, PENNSYLVANIA - January 28, 2002 - Vishay Intertechnology, Inc. (NYSE: VSH) announces the launch of the Vishay Tedea-Huntleigh Digital 240, a damped load cell from Vishay Transducers that combines fast, variable sampling rates to deliver improved accuracy and flexibility in industrial weighing applications.

The Digital 240 is designed to cope with production processes that require products to be weighed in a fraction of a second to the highest accuracy levels. It can collate 800 samples per second, ensuring that systems such as check weighers attain higher accuracy levels by calculating average weights derived from multiple samples taken over a shorter period of time.

In addition, the fully calibrated Digital 240 is completely adjustable and can be altered to sample at rates to suit different applications. This makes it ideal for process environments suffering from latent vibration, which may require slower sample rates to ensure more stable results.

Unlike other load cells, the Digital 240 uses viscous damping technology to restrain the movement of internal components, making it more tolerant of excessive fatigue and external vibrations than electronically-dampened cells. This is a particularly important benefit in multihead weighing applications where mechanical noise, or vibration, needs to be kept to a minimum. This not only extends the cell's life span but also reduces shock-loading settling times for fast weighing applications.

The Digital 240's output also allows for increased adaptability by employing an ASCII command structure, enabling communication between load cells, control systems and systems operators. Such functionality means a range of load cells, on a multihead weigher, for example, can be networked together over an RS485 link to provide extensive on-board diagnostics and error logging.

For further information about this product and a regional version of the product datasheet, please contact one of these Vishay Tedea-Huntleigh offices:

o U.S.A. / Phone: 800 626 2616
o U.K. / Phone: +44 29 20460231
o Germany / Phone: +49 6151 94460
o France / Phone: +33 237 33 3120
o China / Phone: +86 10 67881604 09
o Israel / Phone: +972 9 863 8888

More from Software